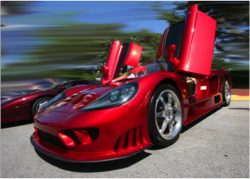 Choose an enclosed trailer for all of your exotic transport needs.
Los Angeles, CA (PRWEB) October 25, 2012
N-Motion Auto Transport prides itself in offering Exotic Car Transport services and knows how important it is to get that car to its destination in the same condition it was loaded on the rig. N-Motion Auto Transport knows customers exotic cars are important to them, and while it is being transported, it is important to N-Motion. Having peace of mind while that exotic car is being transported is N-Motion Auto Transport's goal. They know there are different choices in transportation and N-Motion Auto Transport has our customers best interest in mind.
With N-Motion Auto Transport's enclosed auto transport, customers vehicles are completely protected. Customers will not have to worry about dust, weather (hail), rocks or debris from the road. Their trucks are equipped with a special lift gate for loading your exotic automobile. This is important for low profile vehicles such as Lamborghini, Ferrari, Porsche and Corvettes. Once customers exotic cars are loaded, it will stay on the same truck until it is delivered. N-Motion Auto Transport's drivers know the importance of care, and are trained to look after that vehicle as if it were their own. From coast to coast, N-Motion Auto Transport will provide transport and support. For exotic and classic transportation, enclosed transportation is the only way to go.
Customers vehicles are insured while it is being transported in their enclosed trucks. Each of their car transport trucks and trailers are protected by cargo insurance for customers' automobiles. When customers choose N-Motion Auto Transport, they can expect extreme care of their vehicle and the ultimate in professionalism and customer service at a fair price. N-Motion Auto Transport looks forward to answering any questions and helping customers with their auto transport.
http://www.NMotionAutoTransport.com
1-855-407-4160