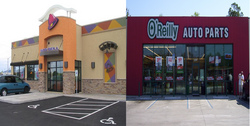 We can offer up to an unleveraged 10% return on capital with less risk than "risk free" bonds or annuities which pay approximately 6%. $100,000 gets your foot in the door.
San Francisco, CA (PRWEB) April 26, 2010
NNN Brokers USA Commercial Real Estate, a leading San Francisco real estate investment services firm specializing as a NNN, NN, and Net Leased Commercial Real Estate Broker in the San Francisco Bay Area, has arranged the sale of the absolute triple net leased Taco Bell located in Los Angeles, CA. The sales price of $1.45 million represented $802 per square foot. Gregory Garver, a vice president and director of NNN Brokers USA Commercial Real Estate's Net Leased Investment Group in San Francisco, represented the seller.
"We traded the absolute triple net Taco Bell sellers into a triple net O'Reilly's Auto Parts sold directly from the developers. The new owners will now enjoy the benefits of a brand new NNN leased building which will provide them with at least 20 years of guaranteed income, rent escalations, and protection against inflation all with no managerial responsibilities. In an absolute net-net-net lease, the tenant is responsible for paying all expenses associated with the property including property taxes, insurance, and maintenance. All the landlord has to do is open his mail and cash the check." says Gregory Garver.
Located in Perry, FL. the net net net O'Reilly's Auto Parts was acquired at an 8.20% CAP rate on a 20 year lease, with three five-year options. There is a 6% rent bump in year eleven and additional 6% bumps with the exercise of each option.
About Gregory Garver:
Gregory Garver a San Francisco Commercial Real Estate Broker, was recently featured in the San Francisco Examiner's "Young and the Rich" cover story. Gregory Garver is also the executive producer of local San Francisco television show Backstage Bay Area with Barry and Kathy and the San Francisco Real Estate editor for DMOZ.
About NNN Brokers USA Commercial Real Estate:
NNN Brokers USA Commercial Real Estate covers all major product types with a focus on commercial properties located in the San Francisco Bay Area and triple net leased investments. NNN properties are extremely attractive in today's economic environment. With cap rates steadily increasing, and inventory at an all time high, now is a great time to buy. Of late, NNN Brokers USA Commercial Real Estate has been utilizing tax deferred 1031 exchanges for its clients. We have assisted many long term owners with large equities in exchanging their properties into national triple net leased buildings which eliminate managerial duties and provide a fixed, passive income. NNN Brokers USA Commercial Real Estate offers decades of extensive knowledge which comes from the years of experience that it has under its belt. NNN Brokers USA Commercial Real Estate has expanded its reach across the country exchanging various properties such as Advanced Auto, AutoZone, O'Reilly's, CVS Pharmacy, Save-On Drugs, and various Government leased buildings.
# # #