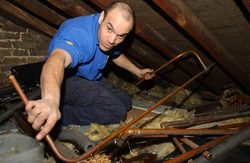 London (PRWeb UK) August 14, 2009
Aspect Maintenance: Complaints about boilers can be fixed in the summer, saving money over getting the boiler fixed in winter.
It may seem strange to be thinking about boilers while the sun is still shining but it could save a lot of time and money in the long run. By having boilers checked and fixed in the summer, homeowners and businesses can benefit from peace of mind and off-season fixing.
August is the ideal time to get property checks done - the majority of boiler complaints occur in the winter months when the weather turns and people need urgent help. It is therefore significantly cheaper to replace a gas boiler in the summer months than during the winter.
Aspect Maintenance's Gas & Central Heating Tips

Don't wait for the winter to set in before you get your boiler serviced. The earlier you do, the easier it will be to find an engineer, and the call out charge is also likely to be cheaper.
Had you considered that some of today's energy efficient boilers can provide up to 30% savings on gas bills? Upgrading systems will not only create cost savings, but will also help to avoid unnecessary call outs (particularly for the capitals landlords). Today's energy efficient boilers also work towards helping households to become greener.
Aspect Maintenance strongly encourage clients looking to upgrade their boiler to consider solar renewable energy. This type of system can be used in conjunction with a specially-integrated boiler, and means the homeowner will be doing more to protect the environment.
And why not ask the engineer to give your property a full winter check whilst they are there?
Professional engineers can check that homes and businesses are fully prepared for the wet and icy winter months and look out for any warning signs.
Call Aspect Maintenance on 0800 082 8185 and get your property checked by a professional Aspect Engineer today.
###