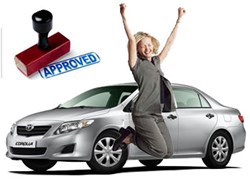 Depending upon your situation, a loan without a credit check may not be the best option for you
(PRWEB) June 15, 2013
Complete Auto Loans is helping more drivers safely get a new or used car by matching them with the best auto lenders in America. While some consumers may think that their credit is too "shot" to get a car loan, "CAL" encourages drivers to try their online auto loan application and to be cautious about applying for "no credit check auto loans". http://www.completeautoloans.com/no-credit-check/
Complete Auto Loans says, "Depending upon your situation, a loan without a credit check may not be the best option for you. In this type of lending situation, a lender will increase the interest rate of the loan as drivers who get a loan without a personal credit history check may default on their car purchase."
Instead of obtaining a personal loan or "no credit check loan", a consumer can save embarrassment by just applying online with "CAL". They provide a perfect online solution through their easy to use auto loan application. The application only takes 60 seconds to fill out and can get a car shopper into their new or used car in as little as 24 hours.
About Us
Complete Auto Loans is a national auto and car finance lender in the USA. They help consumers find a low interest rate car loan despite their credit standing. Their custom auto lending system has been developed to specifically cater towards the consumers' needs for auto loans. Voted for best "Quality Customer Service" they've serviced thousands of car shoppers. Their finance team is available to immediately help anyone choose the best loan program that fits consumer's budget guidelines.