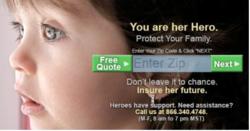 The 'hero's' campaign lets families quickly get term life insurance without medical exams.
Boise, ID (PRWEB) April 18, 2013
LifeSourceDirect.com, a no medical exam life insurance provider focusing on direct-to-consumer insurance and financial products, announces its new "Everyday Heroes" life insurance marketing and advertising campaign. This integrated online marketing campaign is a refreshing departure from traditional insurance advertising and promotes the dramatic convenience and easy life insurance purchase experience consumers can enjoy from direct, online search and selection of no-medical exam term life insurance through LifeSourceDirect.com, a trusted advisor and provider of no-medical exam life insurance products including no-medical exam term life insurance and fully-underwritten life insurance offerings.
"It is no understatement to say that the consumer experience of insurance in general is excruciating and overly-complex. Today's consumers seek and deserve a better, simpler, faster, and more convenient evaluation, search, and purchase process for overly-complex financial products like insurance, annuities, and ever-complicated health insurance products. We have created an innovative online insurance ESP (Evaluate-Search-Purchase) portal for consumers to easily find the best and most convenient insurance offerings in the marketplace, from over 60 different premium carriers, that best fit consumers' individual needs," said Steve Inch, Director of Marketing for LifeSourceDirect.com. "We have stripped out the complexities of insurance processing and put all the power into consumers' hands where and how they want it."
The innovative LifeSourceDirect.com technology platform enables all consumers to realize that protecting the future of their family and their family's dreams is a heroic act for all family members. For many children, they perceive their parents and guardians as everyday heroes in all they do for them. However, many adults defer their duty to provide protection for their family through life insurance until a "later time" or not at all and end up with severe financial challenges when a plan is not in place at the time of their passing. We all know too well, that life is very unpredictable and the most heroic act a parent or spouse can do for their loved ones is to protect them in all aspects of life. LifeSourceDirect.com's campaign spotlights everyday people who plan and protect their loved ones and celebrates them as real heroes of the day.
The biggest point of pain for families to get insurance has been the length of time it takes for insurance underwriting and processing. LifeSourceDirect.com's no medical exam life insurance removes these barriers as insurance can be processed online, in real-time, without a medical exam and final policies can be issued within 24 hours. The approval process is only subject to a medical questionnaire.
This "Everyday Heroes" is designed to promote non medical insurance to help families secure a basic amount of coverage at low cost with ease and convenience. Depending on age and term, coverage can be provided up to $250,000 or more for as little as the price of a cup of coffee per day, per year.
Non-medical life insurance coverage is available up to $350,000 without requiring an exam, blood draw, or urinalysis. Processing time for non-medical exam coverage can be issued in as little as a day. The requirements for issue are for consumer applicants to complete a basic medical, lifestyle, and avocation questionnaire. If an individual is an acceptable risk to the insurance company of choice, the policy can be issued that same day. For face amounts above $350,000 to as high as $5 Million there are fully underwritten plans available that LifeSourceDirect can help you to facilitate for consumers.
There are many ways to be a hero for the one's you love. Providing insurance coverage for your family is one of the easiest and most cost effective ways to do so. When considering the vast array of material things consumers spend their money on, in comparison to the amount spent on life insurance to provide a lifetime of opportunities or just to prevent a family from losing everything, it is unthinkable not to have protection in place.
With LifeSourceDirect.com's "Everyday Heroes" marketing campaign, LifeSourceDirect is delivering the simplest insurance application process available on the market today. From their "one-click" non medical coverage to their fully-underwritten coverages, LifeSourceDirect provides trained professional advisors to assist consumers through the process, if needed. LifeSourceDirect represents over 60 life insurance carriers that are all A- rated or better.
About LifeSource Direct
LifeSource Direct ( http://lifesourcedirect.com/category/blog/ ) was formed to create a dynamic, state of the art, direct sales life insurance company backed by an experienced and professional staff. Incorporating the latest cutting edge technology with one of the best consumer support staffs in the industry assures a simple and easy process for purchasing life insurance. LifeSource Direct works with top rated insurance carriers including Prudential, SBLI, Banner Life, MetLife, Lincoln, Nacolah, Transamerica, ING, Genworth Financial, and many more. LifeSource Direct works with thousands of people every year to help them find the right term life insurance at the right price. In addition LifeSource Direct offers many ancillary products such as complimentary WellCard Health and RX discount cards.