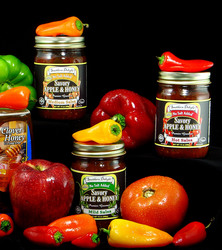 Since it's now no salt added, it's a great recipe starter for reduced sodium meals. We've replaced table salt with Zero Salt*, an all-natural salt substitute, to drastically reduce the sodium level
Bowling Green, KY (PRWEB) May 15, 2008
News today for the mom who wants to feed her family heart healthy snacks and meals without sacrificing flavor. Southern Delight Gourmet Foods is now shipping what could be the nation's lowest sodium salsa, with only 5 mg. of sodium per 1 oz. serving and it's Kosher, as well. Besides being a heart healthy snack food, the Southern Delight brand Savory Apple & Honey No-Salt-Added Salsa is also a quick recipe starter for easy and delicious family-friendly low sodium diet recipes.
You can easily make heart healthy, low sodium and family friendly recipes, such as Artichoke Tomato Sauce for spaghetti, Salsa-Smothered Chicken and tasty Salsa-Joe Sandwiches. Available in Mild, Medium and Hot, the Southern Delight brand Savory Apple & Honey No Salt Added Salsa gets its unique flavor from apples and honey, which makes it very versatile for cooking. "Since it's now no salt added, it's a great recipe starter for reduced sodium meals. We've replaced table salt with Zero Salt*, an all-natural salt substitute, to drastically reduce the sodium level," said Bart Anderson, Southern Delight founder and regional low sodium and heart healthy TV cooking personality.
"America is facing the greatest health challenge in her history with 65 million Americans suffering from hypertension, and nearly 650,000 people dying annually due to heart disease and stroke. More Americans die each year from heart-related issues than any other reason, and consuming too much sodium is part of the problem," according to Anderson.
"American families are simply using too much salt. Children and youth are affected as well. Experts say they are seeing an increased number of children and youth with high blood pressure. And some experts warn that we are facing an explosion of new cardiovascular disease cases in young adults and adults," he added.
Anderson's passion for no-salt-added low-sodium foods began years ago, when his Father-in-law, Robert H. Noffsinger, suffered from severe high blood pressure. To compensate, Anderson and his wife, Marilyn, simply learned to cook without using salt. And now that Marilyn is plagued with high blood pressure, it's even more important for him to create additional low-sodium products that have great flavor with no added salt.
"By taking the salt out of our salsa, we quite possibly now have the only no salt added product line available. Shoppers can now be assured that if they buy Southern Delight branded products, they are getting no-salt-added, and we believe that's very important and comforting to those who want or need to reduce their sodium consumption." he said.
"It's time for American families to overhaul their eating habits. If you want to improve the quality of your family's health, you simply must start cooking many of your meals from scratch at home, using low sodium foods. And we don't mean popping pre-prepared convenience foods in the microwave," he added.
"Cooking heart healthy meals at home doesn't have to be time consuming and difficult, though. People can reduce the sodium in their soups by as much as 80 percent, by making easy homemade soups. But you need to pay very close attention to the nutrition facts and the serving size of the ingredients that you buy." Anderson added.
"Since many ingredients already contain salt, we recommend that families stop adding salt during cooking and remove the salt shaker from the kitchen table, switching to herbs, spices, citrus and other salt substitutes. Reducing your family's sodium intake to a healthy level requires that you become very diligent in reading nutrition facts panels and paying close attention to the reported serving sizes, plus just saying no to salt," he emphasized.
"High blood pressure is a modern day epidemic, and we know that by eliminating salt as an ingredient at the processing stage, we can help families dramatically reduce their sodium intake. Moving your family to a low sodium diet is very important. Many consumers have told us that they eat an entire jar of salsa at one sitting - by themselves. Our new product contains only 60 mg. of sodium for an entire jar, compared to 2000 mg. to well over 3000 mg. for many of the national brands." Bart said.
Southern Delight produces additional no salt added products, including no-salt-added barbecue sauces and marinades (flavors include Smoky Pecan Peppercorn, Sweet Bacon & Spice, Mint Julep, and Classic Sweet & Spicy), and seasoning blends including Classic Garlic & Mustard, and Basil & Oregano Italian. Their products can be found at regional grocery store chains, gourmet shops and also via their on-line store.
About Southern Delight Gourmet Foods:
Southern Delight Gourmet Foods, LLC, is a maker of no salt added, low sodium gourmet food products. Bart Anderson, founder, is seen regionally on TV stations in Indiana, Ohio, Kentucky and Tennessee, preparing easy, low sodium and hearty healthy dishes, and his TV schedule is listed at the company's website. News media product samples are available upon request.
*Zero Salt is a trademark of Food Innovations International, Inc.
Southern Delight, Savory Apple & Honey, Smoky Pecan Peppercorn, and Sweet Bacon & Spice are trademarks of Southern Delight Gourmet Foods, LLC.
# # #