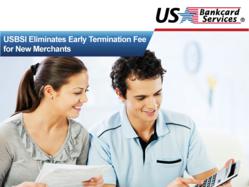 USBSI would like to emphasize that its merchants are the reason for its success
City of Industry, CA (PRWEB) November 15, 2012
US Bankcard Services, Inc. (USBSI) is pleased to announce that it, along with its partner Elavon, Inc., has eliminated early termination fees for new merchants. Effective immediately, all new Elavon and USBSI merchants are no longer bound by three-year contracts. As a result, new merchants may cancel at any time without being assessed an early termination fee. All other merchants will not be affected by this change.
Elavon, Inc. has offices in the United States, Brazil, Canada, Puerto Rico, Mexico, and throughout Europe. It ranks as the number one airline processor worldwide and fourth in processing volume in the United States. In addition, Elavon provides payment processing to more than 1.2 million merchants globally. This change is to ensure that every customer experience is a true reflection of our attributes of strength, trust, responsiveness and innovation. USBSI appreciates its merchants' continued support and feels that this initiative will help the company's goal of delivering a more meaningful customer experience.
USBSI is proud to work with Elavon, Inc., a company that shares its values of making customer service its foremost priority. USBSI would like to emphasize that its merchants are the reason for its success, and eliminating early termination fees is part of its goal to provide the best service in the industry for its merchants. With this change, USBSI hopes that more merchants who need the credit card processing power and award winning customer service that Elavon and USBSI provide will join the Elavon and USBSI family.
About US Bankcard Services, Inc.
US Bankcard Services, Inc. is a top rated MSP that offers competitive rates, incredible customer service support, and cutting edge technology in credit card processing services. US Bankcard Services, Inc. offers a wide array of value-added services, including QuickDining (QD) restaurant e-commerce, gift card services, check guarantee, PCI-DSS compliance consultancy, 24-7 multilingual customer service and technical support. US Bankcard Services, Inc. is a registered MSP/ ISO of Elavon, Inc. Georgia.
For more information about merchant bankcard services please visit us at usbsi.com or call us at: 1-888-525-8558.