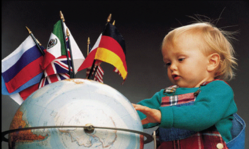 Preschool children naturally have a high level of curiosity and are much more receptive to learning about other cultures.
Annapolis, MD (PRWEB) May 16, 2012
To introduce and promote bilingualism for children, Language Advantage is giving away a NO COST, five week foreign language program to qualified child development, daycares and private, public or home schools in Maryland.
The goal of our programs are to provide the tools necessary to bring bilingual fluency to young children no matter what their circumstances are or where they live and give children a head start on becoming bilingual adults through the use of music, movement, reading, speaking and creativity.
"At Language Advantage we strongly believe that children of all ages deserve all the advantages they can get when they get older," said company Director Ken Kennedy. "In order to promote bilingualism for children, we are offering a NO COST opportunity for school and day care directors to experience a foreign language program in their school. This gives them an opportunity to see if this type of program would work with their kids."
Our programs are aimed at developing the emotional, intellectual and social independence of children in a creative and stimulating environment. Designed for children, our programs are ideal for private / public after school programs, home school programs, child development and day care centers.
For qualified schools, there is no cost for the five week program, all materials will be provided, and has been designed to meet the needs of children ages 3-15.
If you are interested in setting up a program in your school, you must submit an application at our website: http://www.kidsforeignlanguages.com or call 410-988-2103.
We encourage you to submit a request for your school or daycare. After all, there's no cost during the initial 5 week session.