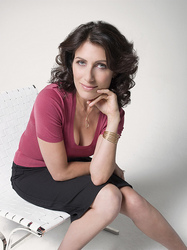 Las Vegas, Nev. (Vocus) October 23, 2008
Lisa Edelstein, star of the hit medical drama, "House," will be the keynote speaker at the national No More Homeless Pets Conference this weekend in Las Vegas.
Edelstein is a long-time supporter of Best Friends Animal Society and the organization's leadership in the movement to end the killing of adoptable animals in our lifetime. Her keynote speech will be Saturday evening.
The conference, sponsored by Best Friends, will help galvanize the creation of lifesaving programs for homeless pets in communities across the country. More than 600 participants from across the United States, as well as Australia, Mexico and Canada, are attending the three-day event at the Alexis Park Resort Hotel, 375 E. Harmon Ave. The conference runs from Friday, Oct. 24 through Sunday, Oct. 26.
Media outlets are invited to cover this event and meet the people who are creating a new world for homeless pets at this landmark gathering of experts from across the country. Interested media should contact John Polis, Best Friends manager of public relations, 435-817-2980, johnp @ bestfriends.org.
The conference includes panel discussions, workshops and optional seminars that explore successful model animal welfare programs and provide information on community outreach strategies, fundraising methods, pet adoptions and more.
Participants will learn how to launch or play a part in a No More Homeless Pets program in their community.
More information please visit: http://www.nomorehomelesspetsconference.org.
About Best Friends Animal Society:
Located on 3,700 acres in Kanab, Utah, Best Friends Animal Society operates the country's largest sanctuary for homeless pets and is home, on any given day, to about 2,000 dogs, cats, horses, rabbits, birds, and other animals. Best Friends works globally with animal shelters and rescue groups to bring about a time when there will be no more homeless pets. Best Friends advances initiatives nationwide that promote community approaches to making the world a better place through kindness to animals, which includes adoption, spay-neuter, and humane education programs. Best Friends is the home of "DogTown," a National Geographic Channel television series that chronicles the society's ongoing work with dogs. For more information, visit http://www.bestfriends.org.
Best Friends Animal Society: A better world through kindness to animals.
Contact:
John Polis (435) 644-2001, ext. 4858 (office) or (435) 817-2980 (cell), johnp @ bestfriends.org
Barbara Williamson (435) 644-2001, ext. 4408, (435) 689-0200 (cell), barbara @ bestfriends.org
# # #