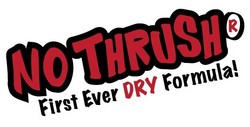 Endorsed by........... Dr. Geoff Vernon, DVM..... TEAM USA Jumper Veterinarian, Olympics / World Cup
Thousand Oaks, CA (PRWEB) July 6, 2010
Simi Valley, CA:
NO THRUSH http://www.NoThrushShop.com launched the official release of it's flagship, patent pending product - NO THRUSH - The First Ever DRY Equine Formula - at the Western States Horse Expo in Sacramento, CA (June 11-13th ).
"NO THRUSH is turning the equine world on it ear," states Heath Kizzier, V.P., and Director of Marketing. "It's a highly significant advance in thrush treatment, yet it doesn't require a doctorate to understand the concept. A dry product on a wet infection just makes sense."
[NOTE: Thrush is a bacterial infection that breeds in the deep creases of the hoof. If left untreated it can quickly become debilitating]
NO THRUSH is applied with a thin-tipped squeeze bottle and the flour-fine product yields excellent coverage, penetrating the deepest areas where thrush thrives. Unlike wet products that treat thrush but leave the moist breeding ground behind, (giving the bacteria a place to hide, re-group, and ultimately re-emerge), NO THRUSH attacks the infection head-on, and then immediately begins to bond the moisture and eliminate it from the area - robbing the bacteria of its damp breeding grounds. The ingredients list includes Copper salts, oregano powder, (used as a natural astringent), and diatomaceous earth among others. It can be applied in wetter locales. Typical cases require once daily applications for 3-5 days. In addition, due to its natural ingredients, it will not burn sensitive tissue and can be utilized in a regular maintenance program of 2-3 dusting a month which will combat re-occurrences for those horses with a history of thrush.
This Revolutionary advance in hoof care is the inspiration of Kathleen Busfield, owner / operator of Four Oaks Farm a 50-acre Equine Rehabilitation and Retirement Center in Simi Valley CA.
"NO THRUSH was invented out of necessity," Busfield states. Her Rehab Center was sent an elite Grand Prix Jumper ridden in the A.O. Class that was plagued with chronic thrush. "It had been in and out of vet care for 18 months. The thrush had attacked a half-inch into the hairline and this high-value horse was rendered lame and stall-bound." From her thirty years of experience, she knew that a typical product would not work. A more advanced approach was needed. This inspired her first question….: "Why would I put a "wet" product on a "wet" infection?," She went into overdrive to find an alternative and the concept of a "dry" product was born. After extensive research and experimentation, the final result was used on the Grand Prix Jumper. After only four days all signs of thrush had disappeared, the hoof was dry, the lameness was gone, and healing had begun.
"Two things set us far apart from the competition," says Kizzier.
[Incidentally, Kizzier is recognized from his days as a star of the CBS Television drama, The Young and the Restless. His tenure in marketing includes over 15 years of work in the Television and Print advertising media.]
"First, is the application process," he continues. "Because it is dry and clean NO THRUSH takes only seconds to apply. Other products require extensive cleaning - with water, which we don't recommend - and leave behind stains on hands, clothing and facilities. The time-saving ease of using NO THRUSH ensures that horse owners are likely to use it properly and follow through with recommended treatment. The Second benefit," he adds, "is the natural drying qualities of the product. When horse owners learn how NO THRUSH works, it's as if they have experienced an epiphany. Most have tried all the wet products with only marginal success. They have also tried caustic brews involving bleach or iodine. The No Thrush concept is simple to grasp and is good common sense. In 3-5 days you will have a horse with dry, thrush-free feet - a horse now ready to heal and get back to work."
No THRUSH is currently available at the company website, http://www.NoThrushShop.com and at over 150 tack stores around the country, more are added each day. It is used by countless farriers and barefoot trimmers, and used by many of the most elite Hunter/Jumper and Racing barns in the country.
For detailed information about NO THRUSH, log on to http://www.NoThrushShop.com