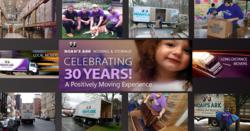 Founder and CEO, Amit Arava, says Noah's Ark Moving lives up to the company slogan "A positively moving experience" for all customers and clients
New York, NY (PRWEB) December 03, 2012
Noah's Ark Moving and Storage celebrates its 30th Anniversary in the moving services industry. What began as a small residential and commercial moving company in 1982 has now become an international company that services local, regional, interstate, out of state, and international markets. They have built a reputation on hard work and exceptional customer service. To paraphrase, a "breakdown" or "no show" is not in their vocabulary.
The proof is in their numbers; 50% - 70% of its business comes from referrals. The amount of positive feedback from customers is incredible. Word of mouth in large part has allowed this company to sustain itself during the years. What's more, they are fully licensed and insured, offer highly competitive rates, have state of the art storage facilities, and provide all the essential supplies for moving. Noah's Ark Moving and Storage is justly in a league of their own – outdoing their competitors in almost all aspects of the moving and storage business.
Founder and CEO, Amit Arava, says Noah's Ark Moving lives up to the company slogan "A positively moving experience" for all customers and clients. Over the years Noah's Ark Moving has committed to doing just that. Consumers are given a clean, dependable, and safe moving experience each and every time. Noah's Ark employees are taught the fundamentals of moving and put through extensive training courses in order to exceed customers' expectations.
In its three decades of providing moving experience excellence, Noah's Ark has gradually expanded throughout the tri-state area with offices in NYC and Connecticut. Their newest addition located in Bronx, NY will allow them to further tap into the local moving market expanding their already well known presence in the moving business. Noah's Ark Moving and Storage is truly a tight-knit company with an amazing customer support base. Their level of commitment is an ongoing process and will continue to be so.
Read More about Noah's Ark Moving & Storage