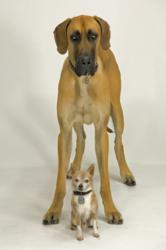 Noah's Dogs believes that no dog or puppy deserves to end up in the wrong home and suffer the sad prospect of ending up in an animal shelter
London (PRWEB UK) 24 April 2013
Noah's Dogs is the place for anyone considering dog ownership. It provides advice on how to choose a dog for life.
Visitors can browse comprehensive profiles of over 200 breeds and cross breeds, including videos of the most popular breeds. The profiles are written from the dog's point of view. They express the dog's needs and their suitability based on their origins, character, temperament and real owner reviews. Dog owners, past or present, are asked to pass on their knowledge to help dogs find their ideal owners and a loving home for life.
To help potential owners find the most suitable dog, they are invited to take Noah's Dogs comprehensive compatibility test and answer questions about their lifestyle and wishes.
Noah's Dogs then matches the needs of the dog with the requirements of the owners to suggest the perfect match.
Just like personal dating and relationships, Noah's Dogs advises against choosing a lifetime partner on looks alone. All puppies look cute but many require more training, exercise and time than some owners can provide.
Sadly, many dogs have to endure the stress of being abandoned or returned to breeders and rescue homes as owners chose an inappropriate breed in haste.
Before choosing a puppy from a breeder, potential owners are invited to choose from hundreds of wonderful and deserving dogs looking for a forever home from shelters across the country. The site already features over 500 dogs looking for a home from a number of different shelters. Charities are invited to upload their dogs for adoption for free.
About Noah's Dogs
The inspiration for Noah's Dogs came from a chocolate Labrador called Barnaby. The website is founded by his owner David Lethbridge, an internet entrepreneur (Confetti, Eharmony and Joy of Clothes and his friend and neighbour Farokh Khorooshi, an animal loving film director and conservationist.