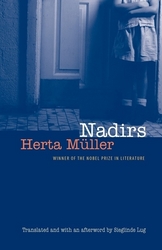 Last year we were able to step up and help the University of Nebraska Press fulfill the surge in demand for two titles following the award of the Nobel Prize in Literature to Jean-Marie Gustave Le Clezio
Frankfurt, Germany (Vocus) October 13, 2009
The University of Nebraska Press has selected Lightning Source Inc. to bring Herta Mueller's 2009 Nobel Laureate title Nadirs to market.
The University of Nebraska Press is a leading academic press with a long standing dedication of making available the best literature from around the world. Lightning Source, an Ingram Content Group company, is the leading provider of print on demand book manufacturing and distribution solutions to the book industry.
"The University of Nebraska Press prides itself on both the literary prowess of our book list, and making those titles on our list available to the broadest global audience," said Rhonda Winchell, Sales and Marketing Manager, The University of Nebraska Press. "After the recent 2009 Nobel Prize in literature announcement, the demand for Nadirs (978-0-8032-8254-4) skyrocketed, and our Press had only a small amount of inventory."
Ms. Winchell continued, "With our limited inventory on hand, we needed books to meet order demand and we needed those copies fast. We immediately turned to our trusted partner, Lightning Source."
"Two days after the Nobel Prize was announced, we had copies of Nadirs on the way to distributors in Europe and the U.S, and we were fulfilling orders one-off to meet demand," Ms. Winchell said. "There's no other organization comparable to Ingram that could have pulled this off. We continue to be able to fulfill orders and meet demand globally because of our fine partnership."
At Frankfurt Book Fair this week (October 14th - October 18th), The University of Nebraska Press will exhibit copies of Herta Mueller's Nadirs, through its European distributor Combined Academic Publishers at Stand # 8.0 B935, and the book will also be on display at the Ingram Stand # 8.0 M902.
"Last year we were able to step up and help the University of Nebraska Press fulfill the surge in demand for two titles following the award of the Nobel Prize in Literature to Jean-Marie Gustave Le Clezio," said David Taylor, President of Lightning Source Inc., and Senior Vice President, Content Acquisition, Ingram Content Group.
Mr. Taylor continued, "Using our well established global capability in print on demand, sales were realized that might well have otherwise been lost and this spike in demand was fulfilled. Following another Nobel award to a University of Nebraska Press author and the surge in global interest, we are only too delighted to help again and ensure that these important books are able to get into the hands of readers. Print on demand is a wonderful model to ensure that sales are realized without having to print large quantities up front to allow for possible demand surges like this. We would love to see every publisher have their titles in our programme so that no sale is ever lost and no reader ever disappointed."
ABOUT THE UNIVERSITY OF NEBRASKA PRESS
Founded in 1941, the University of Nebraska Press (UNP) is a nonprofit scholarly and general interest press that publishes 160 new and reprint titles annually under the Nebraska and Bison Books imprints respectively, along with 20 journals. As the largest and most diversified university press between Chicago and California, with nearly 3,000 books in print, the University of Nebraska Press is best known for publishing works in Indigenous Studies, Western American History, literary translation, and sports history. A distinctive member of the University of Nebraska community, UNP supports the missions of research, teaching and service. In addition, UNP's sustained commitment to publications on the peoples, culture and heritage of Nebraska reflects decades of service to its home state. Learn more about UNP at http://www.nebraskapress.unl.edu .
ABOUT LIGHTNING SOURCE
Lightning Source Inc. is part of Ingram Content Group Inc. which provides a broad range of physical and digital services to the book industry. Ingram's operating units are Ingram Book Company, Lightning Source Inc., Ingram Digital, Ingram Periodicals Inc., Ingram International Inc., Ingram Library Services Inc., Spring Arbor Distributors Inc., Ingram Publisher Services Inc., Tennessee Book Company LLC, Coutts Information Services, and Ingram Marketing Group Inc. For more information, visit http://www.lightningsource.com and http://www.ingramcontent.com .
###