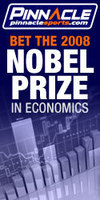 The current betting market at PinnacleSports.com is dominated by US economists, reflecting the fact that 60% of the Nobel Economic winners since the prize's inception in 1969 have been Americans
Willemstad, Curacao (PRWEB) October 8, 2008
2008 will go down in history for the unprecedented turmoil witnessed in the financial markets of the world's largest economies - the Credit Crunch. Given the world's seemingly relentless economic meltdown, all eyes will be on the Royal Swedish Academy of Sciences, administrators of the world famous Nobel Peace Prize. They will no doubt be deliberating long and hard before announcing, on October 13th, the winner of 2008 Nobel Laureate for conferring the greatest benefit on mankind in the field of Economics. Of interest to a global audience, today PinnacleSports.com became the first established bookmaker to offer odds on the winner of this year's Nobel Economics Prize.
The leading sports betting site on the Internet, PinnacleSports.com, has calculated individual odds on the likely winner for this year's Nobel Economics Award. The oddsmakers at PinnacleSports.com currently list Harvard Professor and President and CEO of the National Bureau of Economic Research, Martin Feldstein, as the early favourite with odds of 8.00* (bet $1 to return $8), followed closely by Thomas J. Sargent, current Berkeley Professor of Economics and Business at New York University, with odds of 12.00*.
With an industry leading reputation for providing consistent value to the player, PinnacleSports.com lists other solid contenders to win the 2008 Nobel Prize in Economic Science including Robert Barro and Paul Romer, with odds of 13.00*, and Jagdish Bhagwati and Paul Krugman with odds of 15.00*.
"The current betting market at PinnacleSports.com is dominated by US economists, reflecting the fact that 60% of the Nobel Economic winners since the prize's inception in 1969 have been Americans", said Simon Noble, spokesman for PinnacleSports.com. "Given that the current economic crisis is seen by many to reflect the abject failure of Global financial markets, and the US sub-prime sector in particular, bettors may be looking away from the traditional base of perceived economic wisdom in US academic institutions for the winner of this year's Nobel Prize in Economics."
Former chairman of President Bush's Council of Economic Advisors, N. Gregory Mankiw, rounds out the betting markets at PinnacleSports.com with odds of 51.00*. All other unnamed economists have been included in "the field", which bettors can wager on at odds of 1.77* (bet $1 to return $1.77).
For additional information and a complete list of odds, please visit PinnacleSports.com.
*Odds subject to change.
###