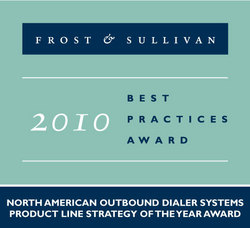 Industry leader is recognized for accomplishments in outbound dialing technologies.
Atlanta, GA (PRWEB) February 17, 2011
Noble Systems Corporation, a global leader in innovative contact center technology solutions, has received the Frost & Sullivan 2010 Product Line Strategy of the Year Award. Noble Systems received the award based on the richness of its product offering for the outbound customer contact solutions market, strength of applications and customer base for the market it serves, and focus on delivering value to its customers.
The Frost & Sullivan North American Product Line Strategy of the Year Award is presented to the company that has best demonstrated excellence against its competitors in breadth of product line, size of addressable customer base, impact on customer value, impact on market share and breadth of applications/markets served. The recipient company continually focuses on providing value-added products and services with a broad solution set to address the needs of many different types and sizes of organizations.
"Noble's product line strategy has three key elements which deliver significant customer value," observes Frost & Sullivan principal analyst, Joe Outlaw. "These include: purpose-built solutions which address the unique requirements of the outbound-centric enterprise, solutions which span the needs of enterprises of all sizes and levels of business sophistication, and Noble's unique customer success approach – aligning itself with the top line revenue goals of its customers. The company's market leadership is proven with installation on tens of thousands of agent workstations at more than 4,000 client sites, including many of the leading organizations in collections, financial services, outsourcing and consumer products."
James K Noble, Jr, President & CEO of Noble Systems, states, "Noble Systems' goal is to deliver solutions that meet the broad spectrum of contact center technology needs for organizations of all sizes. We provide a tailored platform that meets the unique business requirements of each individual client, beginning with superior outbound dialing technologies and growing with them to build a complete, unified customer communications platform. Our clients have long recognized this through their word-of-mouth referrals and testimonials. We are delighted to see it recognized throughout the contact center marketplace through such an esteemed organization as Frost & Sullivan."
About Frost & Sullivan
Frost & Sullivan, the Growth Partnership Company, enables clients to accelerate growth and achieve best-in-class positions in growth, innovation and leadership. The company's Growth Partnership Service provides the CEO and the CEO's Growth Team with disciplined research and best-practice models to drive the generation, evaluation, and implementation of powerful growth strategies. Frost & Sullivan leverages 50 years of experience in partnering with Global 1000 companies, emerging businesses and the investment community from more than 40 offices on six continents. To join our Growth Partnership, please visit http://www.frost.com.
About Noble Systems®
Noble Systems Corporation is a global leader in contact center technology solutions, providing innovative products since 1989. Tens of thousands of agents at 4,000+ client installations worldwide conduct business using the award-winning Noble® platforms for inbound/outbound/blended communications. The scalable, integrated Noble solutions include advanced ACD and predictive dialing; unified contact processing for voice, email, and web; and integrated IVR, digital recording, messaging, quality control/monitoring systems, scripting, and real-time reporting and management tools. Based in Atlanta, GA, Noble was the first vendor to offer an open, scalable, fully-distributed platform. For more information, contact Lee Allum at 1.888.866.2538 x538 or visit http://www.noblesys.com.
# # #