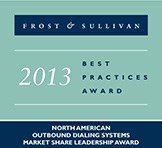 Noble Systems' primary goal is to deliver superior contact center technology solutions for organizations of all sizes. We believe that our solutions are the best in the industry, and being recognized as such by Frost and Sullivan is an honor.
Atlanta, GA (PRWEB) September 04, 2013
Noble Systems Corporation, a global leader in innovative contact center technology solutions, has received the Frost & Sullivan 2013 Market Share Leadership Award for the North American Outbound Dialing Systems market. Key performance drivers for Noble Systems' growth are its flexible deployment options, compelling feature set, and strength of offering.
The Frost & Sullivan North American Outbound Dialing 2013 Market Share Leadership Award is presented to the company that has demonstrated excellence in capturing the highest market share within its industry. The Award recognizes the company's leadership position within the industry in terms of revenues or units, as specified. Noble Systems' client base has grown to more than twenty percent of the outbound dialer systems market, overtaking the previous market share leader by several percentage points. Of note are Noble's cloud offerings, compliance solution, mobile management options, and integration with third-party applications from Salesforce.com and CRS Titanium.
"That Noble Systems can continue to lead in the Outbound Dialing Systems market despite a tough economy and changing government regulations is a testament to its broad feature set and go-to-market strategy," said Nancy Jamison, Principal Analyst in Customer Contact at Frost & Sullivan. "Noble Systems continues to innovate and bring solutions to market that enable its customers to provide increasingly more sophisticated and relevant levels of outbound contact."
James K. Noble, Jr, President & CEO of Noble Systems, states, "Noble Systems' primary goal is to deliver solutions that meet the broad spectrum of contact center technology needs for organizations of all sizes, beginning with superior outbound dialing technologies and extending to a complete, unified customer communications platform. We are delighted that this commitment has driven us to the forefront of the market, and that we have been able to accomplish this despite the fact that the market for outbound dialing systems has been challenged for several years by regulations and changing strategies. We believe that our solutions are the best in the industry, and being recognized by an esteemed organization in Frost & Sullivan is an honor."
About Frost & Sullivan
Frost & Sullivan, the Growth Partnership Company, enables clients to accelerate growth and achieve best-in-class positions in growth, innovation and leadership. The company's Growth Partnership Service provides the CEO and the CEO's Growth Team with disciplined research and best-practice models to drive the generation, evaluation and implementation of powerful growth strategies. Frost & Sullivan leverages 50 years of experience in partnering with Global 1000 companies, emerging businesses and the investment community from more than 40 offices on six continents. http://www.frost.com.
About Noble Systems
Noble Systems Corporation is a global leader in the customer communications industry, providing innovative solutions for Unified Communications, Business Process Management and Analytics. Tens of thousands of agents at 4,000+ client installations worldwide use Noble platforms to manage millions of customer contacts each day. Noble offers a unified suite of multi-channel inbound, outbound and blended contact processing, strategy planning, and resource management tools for companies of all sizes. Our premise, cloud, and innovative premise/cloud hybrid platforms include ACD, predictive dialing, blended processing, recording and monitoring, IVR, messaging, interaction analytics and workforce management. For more information, contact Lee Allum at 1.888.8NOBLE8 or visit http://www.noblesystems.com.