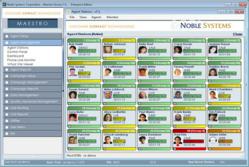 Noble Maestro offers our clients a dependable resource for improving agent efficiency and streamlining management functions.
Atlanta, GA (PRWEB) January 17, 2013
Noble Systems Corporation, a global leader in unified contact center technology solutions, announces the release of Noble Maestro 7.1, the newest generation of Noble Systems' flagship offering for contact center management and reporting. Noble Maestro provides an intuitive manager portal for the Noble Enterprise Solution Suite, making it easy for users to manage campaigns, lists and data, assign contact strategies, schedule activities, and control activity flows.
Key enhancements and features include:

Enhanced IVR with Web Services – web services are supported for use with Noble IVR
Integrated Analytics – seamless connectivity with Noble Data and Speech Analytics tools
Improved Area Code Management – automated maintenance of area codes for list records to manage dialing more effectively
Enriched Compliance – customizable Dialing Filters to manage compliant contacts, connectivity does not require DSN and enhanced audit logging
Advanced QA Features – updated QA Scorecard functionality, including new question templates, question weighting and scoring tools, and voice and video recording indicators
Upgraded List Management – expanded support for creating list profiles and multiple phone numbers per record with duplicate number management
"The Noble Maestro manager portal is a central component of our premise and cloud-based contact center platforms, and it has played a significant role in helping us win new business since it was first introduced in 2007," says James K. Noble, Jr., President and CEO of Noble Systems. "Maestro offers our clients a dependable resource for improving agent efficiency and streamlining management functions. Its intuitive design and ease of use puts it at the top of our clients' favorite system features." Learn more about Noble Maestro.
About Noble Systems
Noble Systems Corporation is a global leader in the customer communications industry, providing innovative solutions for Unified Communications, Business Process Management and Analytics. Tens of thousands of agents at 4,000+ client installations worldwide use Noble platforms to manage millions of customer contacts each day. Noble offers a unified suite of multi-channel inbound, outbound and blended contact processing, strategy planning, and resource management tools for companies of all sizes. Our CPE, CaaS and innovative premise/cloud hybrid platforms include ACD, predictive dialing, blended processing, recording and monitoring, IVR, messaging, interaction analytics and workforce management. For more information, contact Lee Allum at 1.888.8NOBLE8 or visit http://www.noblesystems.com.