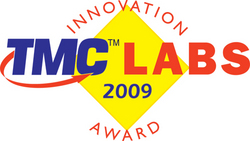 We're proud to honor their outstanding accomplishment with a TMC Labs Innovation Award this year.
Atlanta, GA (PRWEB) August 29, 2009
Noble Systems Corporation, a global leader in innovative contact center technology solutions, has received a "2009 TMC Labs Innovation Award" from Technology Marketing Corporation's (TMC®) Customer Inter@ction Solutions® magazine for Noble® SIPhony. SIPhony is an evolutionary platform for unifying customer communications via a server-based telephony architecture. Customer Inter@ction Solutions has been the leading publication in the CRM, call center and teleservices industries since 1982.
SIPhony, Noble's newest generation SIP platform, allows companies to create a more efficient and more effective telephony environment to reduce training time, improve productivity, and lower costs. This server-based solution supports contact center environments regardless of their telephony infrastructure, including pure native-SIP, traditional TDM telephony, or a hybrid of the two. With SIPhony, contact centers can connect any type of agent, wherever they are located, using any type of telephony connectivity to create a flexible platform without boundaries. SIPhony offers an IT-ready platform that is easy to integrate into existing hardware or software applications to seamlessly provide point solutions for customer contacts or it can be installed in a new IP or TDM environment to offer a completely unified contact center solution.
"Noble Systems has clearly shown the staff of TMC Labs that Noble SIPhony has made a significant contribution to the CRM and contact center industry," said Nadji Tehrani, founder and chairman of TMC and publisher of Customer Interaction Solutions. "We're proud to honor their outstanding accomplishment with a TMC Labs Innovation Award this year."
"Noble SIPhony demonstrates the out-of-box thinking from Noble Systems," said Tom Keating, CTO and TMC Labs Editorial Director. "I'm sure we will see other extraordinary solutions from Noble as they continue their efforts toward improving the future of the CRM and contact centers."
The TMC Labs Innovation Awards honor products that demonstrate raw innovation, unique features, and significant contributions toward improving the communications technology. The TMC Labs Innovation Awards are granted to companies with the most gripping solutions brought to market. The September and October 2009 issues of Customer Interaction Solutions magazine will include the TMC Labs 2009 Innovation Award winners.
James K. Noble, Jr., President & CEO of Noble Systems, says, "Noble SIPhony is truly an innovative solution, the first of its kind to offer contact centers a SIP migration path for pure and hybrid IP environments. Noble SIPhony helps companies achieve greater performance, improve customer service, and lower the cost of doing business. We are excited to have this technology recognized by TMC."
About Noble Systems®:
Noble Systems Corporation (NSC) is a global provider of contact center technology solutions, delivering systems since 1989. Every day, millions of contacts are made by agents at 2,000+ installations worldwide conduct business using the Noble® platforms for inbound/outbound/blended communications. The scalable, integrated Noble solution includes ACD and predictive dialing; unified contact processing for voice, email, and web; and integrated IVR, digital recording, messaging, quality control/monitoring systems, scripting, and real-time reporting and management tools. Noble Systems (Atlanta, GA) pioneered an open, scalable, fully-distributed platform. For more information on this item or the company, contact Lee Allum at 1.888.866.2538 x538, or visit http://www.noblesys.com.
# # #