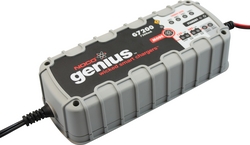 automatically diagnoses, recovers, charges and maintains 12V and 24V batteries
Cleveland, OH (PRWEB) November 23, 2010
The G7200 is one of five multi-purpose battery chargers recently released by the NOCO Company and is the second most powerful charger in the product line. The G7200 is a smart, 12 Step, fully automatic switch-mode battery charger and maintainer that is designed for 12V and 24V batteries.
The G7200 is an exceptionally powerful battery charger. This multi-purpose battery charger specializes in charging modes for recovering severely drained batteries that will not accept a normal charge. The 16V boost helps recover deeply discharged or sulfated batteries. The 13.6V "supply charge" mode maximizes battery capacity, reviving low voltage batteries and can also act as a power supply.
Staying consistent with the NOCO Genius product line, the G7200 is compact and efficient. The NOCO VosFX processor powers the smart battery charger and utilizes high frequency, high efficiency technology to rapidly charge batteries two times faster than traditional linear battery chargers. The Vos FX Processor automatically diagnoses, recovers, charges and maintains your batteries. A massive traditional battery charger is not required for most applications, which gives the G7200 a truly revolutionary approach to battery charging. This battery charger is small for easy storage while still packing the punch.
The G7200 is most suitable for battery applications from 14-230Ah. This can provide enough power for Car's, RV's, Boats and Trucks while still being able to efficiently charge Motorcycles, ATV's, Jet Skies and Snowmobiles.
The G7200 pricing starts at $122.95. For further product information please visit the NOCO Genius website.
The NOCO Company is a specialist in the battery products and accessories industry. Their products include: battery corrosion preventatives, battery cleaners, battery boxes, battery chargers, solar battery chargers, battery terminals, booster cables, battery cables and many more products. As a fully-integrated manufacturing company, they also have the capabilities and resources to design and build custom battery solutions for current and new customers. For over 96 years, the NOCO brand name has been synonymous for quality, reliability and dependability.
# # #