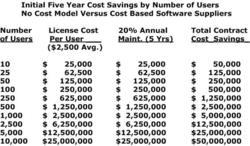 A one hour web software presentation could lead you to huge IT savings - see the demo schedule below
Charlotte, NC (PRWEB) April 04, 2013
Companies have the challenge of determining the right ERP system for their business and then investing large sums of capital on the front end of an ERP implementation for software license fees, software implementation, user training and the first year's annual maintenance costs. The following chart analyzes the cash savings if companies did not have to pay ERP Software License Fees and Annual Maintenance over a five year period from the beginning of the ERP implementation.
Implementation and Training Costs - The other upfront costs are the software vendor's implementation costs which usually includes system setup, module configuration, data base conversion and migration, user training and report design and development which typically accounts for 50% to 125% of the software costs. The improvement in cash flow would come if these costs could be amortized over the life of the contract on a monthly basis and have no interest or carrying costs applied during the contract period.
GLOBALREACT Offers the ERP System No User License Fee Cost Model
GlobalReact is offering the Oracle-based ORION Enterprise ERP System with no User License Fees and Annual Maintenance Costs and amortization of upfront software implementation and modification costs over the life of the contract.
The ORION Enterprise ERP System No User License and Annual Maintenance Fee Model includes Manufacturing, Distribution, Finance and Accounting, Customer Service Management, Supply Chain Management, Human Resource Management and Payroll, Collaborative Portal, Dynamic Configurator, Inbuilt Customizer, Publish and Subscribe Platform, Plug n' Play Technology, and Real-time Handheld Device Management.
Key business benefits:

Seamless integration with single-application access to all business processes
Enterprise-class scalability
Adaptability with easy feature and function customization to cope with rapidly changing business scenarios
Ease of implementation with a user-friendly interface, smooth data integration, and detailed documentation
Increased profitability with greater supply chain flexibility and quicker response time to new opportunities
Lower Total Cost of Ownership
Increased customer loyalty with collaborative tools
Better, sharper decision-making with incisive analytical and reporting tools
ORION Enterprise ERP System Demonstration Webinars
April 16 - 18, 2013 - 2:00pm - 3:00pm
Click here for April 16
Click here for April 17
Click here for April 18
The ORION Enterprise ERP System has a Professional Services Global Support Team of over 9000 dedicated members located in the U.S. in Edison, N.J, Naperville, IL and San Luis Obispo, CA and support offices around the Globe with customer installations in 50 countries on 5 continents. Our ORION Team is supported by capital assets of $110 billion dollars.
About GlobalReact
GlobalReact provides clients with leading edge operational and technology solutions, experienced problem solving capability and the expertise to help an organization streamline current business practices to save money, time, effort and help focus resources on the right tasks. We have shown to be a confident leader who can offer new methods of operation and effective communicators of our vision and goals.
Management and technology consulting is a dynamic, ever-changing industry that requires practitioners to maintain multiple skills. Rapid technological shifts frequently change the way you work, the tools you use and the operational procedures you require. GlobalReact has kept pace with technological advances in the industry in order to propose the most effective solutions and properly estimate project cost and time of the applications being deployed. The development of detailed project plans that overview the tasks and timetables is another of the assets GlobalReact uses to maintain an effective project rollout.
11330 Vanstory Drive, Huntersville, NC 28078 866.968.8555
ORION is a trademark of 3i-Infotech.