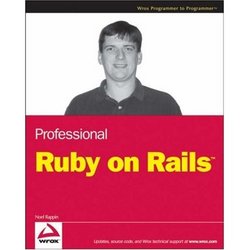 The idea behind this book is to cover the topics that every Ruby on Rails site needs to deal with -- things like users and security, performance, deployment, navigation, with a particularly strong focus on automated tesing
Chicago, IL (PRWEB) February 28, 2008
Pathfinder, a leading agile development, and user experience design firm, announces the release of Noel Rappin's newest book" Professional Ruby on Rails" (Wrox Press, 2008). Rappin is Pathfinder's Director of Ruby on Rails Practice and has previously co-authored "wxPython in Action" and "Jython Essentials".
"The idea behind this book is to cover the topics that every Ruby on Rails site needs to deal with -- things like users and security, performance, deployment, navigation, with a particularly strong focus on automated tesing," said Rappin
This book bridges the gap between what you'll learn from a typical beginner book about Ruby on Rails and what you'll need to know to create a solid, professional, spectacular, complex web application
Professional Ruby on Rails is a guide to taking a beginner web site and making it great. The book covers topics of interest to a web professional who is trying to develop and deploy a complex application. These topics include:

Using REST to structure your application cleanly
How to test and deploy your application for maximum automation with minimal headache
Protecting your site and your user's data
Using Rails to create the kinds of interactions that web users are coming to expect
"I'm excited. This is my first solo book, which both simplifies logistics and leaves me without a co-author to catch me when I'm totally off base. I know Rails pretty well, but there's nothing like facing a skeleton book outline to impress upon you exactly how much you don't yet know. Research has been lots of fun, though -- the Rails online community is fantastic," Rappin stated.
Rails is a full-stack web application development framework for developing rich, powerful applications in a fraction of the time required when using .Net or J2EE.
Pathfinder is a software development firm. For over a decade, Pathfinder has delivered software applications that are easy to use, providing their clients with the technology to enable business breakthroughs and competitive advantage. Companies hire Pathfinder to design, develop and deliver software products faster, cheaper and better than they can do themselves. Pathfinder's clients range from early stage start-ups to Fortune 5 companies across a wide array of industries, including energy, healthcare, insurance, financial services, media and publishing. For more information contact Eleanor Taylor at 312-372-1058, email to etaylor@pathf.com, or visit http://www.pathf.com.
###