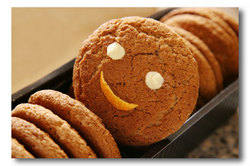 These cookies play a central role in protecting children and vulnerable people.
London, England (PRWeb UK) March 7, 2011
The latest amendment to the E-Privacy Directive (2002/58/EC) will have a huge impact on European websites.
The new addition to the law deals with the use of cookies - small pieces of text stored on a user's computer by a web browser, - and consent on the Internet. Requiring new site visitors to opt-in before using a site; and websites to provide their users with cookie removal instructions.
Given the widespread use of cookies by most sites today, for virtually everything from personalisation to tracking, the law affects every Euro website and user. The implications for ad networks are also massive.
Whilst the use of cookies can be abused, they also play a crucial part in protecting users online from all kinds of unnecessary evils. Cookies can be good for all of us.
Advertisers use cookies to direct relevant advertising to people online. Removing them may result in misdirected, inappropriate advertising. Imagine advertisements for sanitary towels being shown to men over and over as there is no way of determining that it is not only irrelevant to the user, but has already been seen. That's the future of advertising networks trying to target advertising without cookies.
But it gets worse. Brian Larholm, joint owner of Noesis Systems which runs Noesis Chat (a large pan European "online chat network") explains, "These cookies play a central role in protecting children and vulnerable people. On our chat we use these cookies to help keep troublemakers off and identify potential paedophiles or criminals which we then report to the police."
He elaborated, "By disallowing the use of these cookies and forcing Internet users to opt in to get cookies while providing detailed instructions on how to remove them, these so called experts are potentially going to bring the Internet to its knees. In addition to opening up all kinds of safety issues, websites that rely on advertising could fail, as advertisers refuse to pay high rates for low results"
According to an article by John Armstrong (Partner at CMS Cameron McKenna), Emma Burnett and Sarah Cole "the UK Government specifically rejects the establishment of an opt-in system and does not intend to give a hard definition of what is strictly necessary, due to the concern that it may damage innovation. Rather, the UK Government proposes to replicate the relevant parts of the revised requirements, thereby leaving the ICO with flexibility to interpret the Directive and adjust to changes in usage and technology."
So while the UK approach seems pragmatic, Noesis Systems is left wondering how far the UK can go to avoid fulfilling this law completely and how these laws will affect the other members of the EU states or those working alongside them.
Noesis Systems says its goal: to protect its users above everything else, is being undermined, and has vowed to fight this new law across all its represented EU countries.
# # #