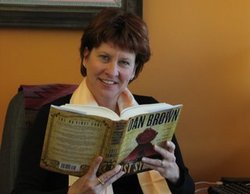 We are immensely grateful to Mr. Brown for virtually catapulting the little-known field of Noetic Sciences into mainstream conversation surrounding his book
Petaluma, CA (PRWEB) October 1, 2009
Author Dan Brown may have had the Vatican fuming over The Da Vinci Code, but his newest book, The Lost Symbol, is being welcomed by one of the world's leading authorities on noetic sciences, who also happens to head the Institute of Noetic Sciences - identified by Brown as one of the real organizations in the novel that actually exist.
To field the overwhelming number of requests by The Lost Symbol readers for information about Noetic Sciences, the Institute of Noetic Sciences (IONS) announced it will launch a teleseminar series on the subject in October.
"We are immensely grateful to Mr. Brown for virtually catapulting the little-known field of Noetic Sciences into mainstream conversation surrounding his book," said President and CEO of the Institute of Noetic Sciences, Dr. Marilyn Mandala Schlitz. Schlitz, who coincidentally shares striking similarities with the book's heroine, "Katherine Solomon," also a noetic scientist, said, "Our website traffic went from 5000 to 65,000 visits a week in the first two weeks since the book's release. Our membership has spiked and suddenly we've been flooded by requests to know just what this 'frontier science' is all about," she added.
Brown's novel, which sold one million copies in its first 24 hours, features the fictional, mystery-solving Harvard symbologist Robert Langdon, with the story taking place over a 12-hour period in Washington D.C. Unbeknownst to booksellers, the media, and fans waiting for the book to hit store shelves on September 15th, Brown employs noetic sciences to untangle the web of clues that resolve the conflict between good and evil.
The Institute of Noetic Sciences has been applying the lens of science to the multidisciplinary study of the mysteries of consciousness since the early 70s, when it was founded by Apollo 14 astronaut Edgar Mitchell - the sixth man to walk on the moon. The Institute conducts evidence-based research, publishes papers in peer-reviewed journals, and offers books, videos, and educational resources for everyone from the general public to the most seasoned scientists. "But it took a thrilling piece of art and entertainment to break through to the mainstream," Dr. Schlitz added.
A multi-part teleseminar series will launch on October 7th on-location in Washington D.C. where Brown's novel takes readers on a tour of the symbols and legends of ancient wisdoms and spiritual traditions hidden among the country's national monuments. The series will feature a selection of audio lectures from the Institute, beginning on October 7th. In it, Dr. Schlitz will guide listeners on a similar tour, offering a broader understanding of noetic sciences to help deepen their appreciation for Brown's connections between science and the mysteries of the consciousness.
The series is free to members, and new members will have access to archived podcasts. For more information on the teleseminar series, go to http://www.shiftinaction.com/lost_symbol_science.
Like "Katherine Solomon," Dr. Schlitz started her studies with ancient Egyptian texts as well as modern scientific views of consciousness. Both women's father and brother were Masons. Furthermore, Dr. Schlitz' laboratory at IONS includes a 2000-pound, electromagnetically shielded room (now affectionately referred to as "The Cube", where she and her colleagues conduct experiments that, according to Dr. Schlitz, have been so thoroughly researched and presented by Brown as to come very close to the history of her work as a noetic scientist.
About Marilyn Mandala Schlitz: For three decades, noetics scientist and anthropologist Marilyn Mandala Schlitz, PhD, has pioneered clinical and field-based research in the area of human consciousness, transformation, and healing. She is a thought leader on matters of individual and social change whose respected voice offers new insights into the most pressing challenges of our time. A researcher, speaker, change consultant, and writer, Marilyn's books include co-author of Living Deeply: The Art and Science of Transformation in Everyday Life and co-editor of Consciousness and Healing: Integral Approaches to Mind Body Medicine. Dr. Schlitz serves as the CEO and president of the Institute of Noetic Sciences (IONS), where she has worked for 15 years. She is also senior scientist at California Pacific Medical Center.
About Noetic Science:
The word "noetic" comes from the ancient Greek "nous," for which there is no English equivalent. It refers to "inner knowing" or "intuitive consciousness"- direct and immediate access to knowledge beyond what is available to our normal senses and power of reason. Noetic sciences apply the lens of science and its rigors and standards of evidence-based research to the multidisciplinary study of the mysteries of consciousness. Noetic sciences explore the "inner cosmos" of the mind (consciousness, soul, spirit) and how it relates to the "outer cosmos" of the physical world.
About IONS:
The Institute of Noetic Sciences is a nonprofit membership organization located in Northern California that conducts and sponsors leading-edge research into the multidisciplinary study of the mysteries of consciousness. The Institute maintains a commitment to scientific rigor while exploring phenomena that have been largely overlooked by mainstream science, such as healing, mind-over- matter, and consciousness transformation. It is located on a 200-acre property that houses research facilities, offices, and a retreat center with meals, a community building, an indoor amphitheater, meeting spaces, and overnight accommodations for up to 120 people. Though its global membership, IONS seeks to harness the collective intention of consciousness explorers who support noetic sciences research and its translation to the broadest possible audience. For more information, including membership and donations to the nonprofit research organization, go to http://www.noetic.org.
Additional video available:
Is Dr. Schlitz the Real Katherine Solomon?
How Consciousness and Intention Gave Us The Apollo Program.
###