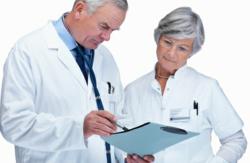 The ACE-inhibiting potency of this peptide concentrate is higher than in any comparable natural derived product earlier reported
Tromsoe, Norway (PRWEB) May 16, 2012
The Norwegian research institute Nofima announces the discovery of a refined peptide concentrate derived from the Arctic coldwater shrimp Pandalus borealis as a revolutionary natural ingredient to help people maintain a healthy blood pressure.
To our knowledge this is the most potent Angiotensin Converting Enzyme (ACE) inhibiting peptide concentrate that is reported in scientific literature. Working as an ACE-inhibitor, it can be used as a dietary supplement or food ingredient to lower blood pressure. The all-natural supplement could help millions of individuals improve their overall cardiovascular health without using prescription drugs.
"Nofima is pleased to report this scientific achievement that further showcases the potential of marine biotechnology and prospecting "said Asbjorn Gildberg, Senior Scientist for Nofima. "The ACE-inhibiting potency of this peptide concentrate is higher than in any comparable natural derived product earlier reported," added Gildberg.
The Norwegian marine biotechnology company Marealis AS follows the product from discovery to commercialization as a blood pressure lowering dietary supplement for the maintenance of normal blood pressure, for people struggling with a blood pressure above normal – prehypertension or hypertension. Marealis is currently conducting a clinical trial in order to document the effect in humans. "We are thrilled to be working with such a prestigious organization like Nofima," said Jaran Rauoe, Managing Director for Marealis AS. "If everything goes as expected, we look forward to bringing this new and highly sophisticated marine ingredient to the market so that individuals that risk cardiovascular disease can reap the benefits," continued Rauoe.
According to the American Heart Association, an estimated 30 per cent of adults over the age of 20 are suffering from prehypertension. This amounts to an estimated 68 million U.S. adults. Prehypertension is associated with elevated risks for Cardiovascular Disease. Compared with normal BP (120/80 mm Hg), prehypertension was associated with a 1.5- to 2-fold increased risk for major cardiovascular disease.
About Nofima
Nofima was established in 2008, and is Europe's largest institute for applied research within the fields of fisheries, aquaculture and food. The institute delivers internationally recognized research and develops solutions that provide a competitive edge throughout the value chain.
About Marealis AS
Marealis AS is a Norwegian marine biotechnology company focusing on the development and commercialization of novel bioactive ingredients derived from sustainable sources of the Arctic Ocean.