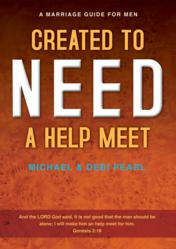 "Created To Be His Help Meet showed me the changes I needed to make in my life that ultimately led my husband to Christ. Simply the best book I've read in conjunction with the Bible on being a Godly wife."
Pleasantville, TN (PRWEB) July 28, 2011
For nearly 20 years No Greater Joy Ministries(NGJ), a 501 (c) 3 non-profit, has been helping marriages and families improve relationships and raise children. Their first title, To Train Up a Child by Michael and Debi Pearl, has sold over 660,000 copies and continues to have a sales ranking below 10,000 of Amazon's over 20 million titles. Through licensing agreements it has been translated into Spanish, Chinese, German and Polish. Since its release in 1994, an entire generation has benefited from its philosophy on child training. That generation is now raising their own children by the book's principles and guidelines. See what readers are saying.
"My favorite thing about these books is how the Pearls focus on "tying strings" with your children—strings of relationship."
"This book has been wonderful and has truly helped us to be good parents…"
"This technique has changed our family for the better! We have happy children with happy parents!"
"This book is absolutely brilliant and I can't recommend it enough."
Their soon to be released book is Training Children To Be Strong In Spirit. Yes, every parent wants well behaved children, but they also want confident, take charge leaders, with a vision for the future. Author Michael Pearl presents how parents can raise their children to be the movers and shakers of tomorrow.
Debi Pearl's book, Created To Be His Help Meet has sold over 375,000 copies since its release in 2004 and consistently maintains a sales ranking under 2,000 of Amazon's over 20 million titles. Preparing To Be A Help Meet is an Amazon Best Seller, ranking in the Amazon Top 100 twice since its release in April 2010. Both are available in Spanish. Created has been translated into Chinese, Russian, German and Polish. Created is positively impacting marriages around the world and Preparing is helping young women enter marriage with healthy and realistic expectations.
Actress, Author, and Speaker, Candace Cameron Bure, Growing in God Ministries had this to say about Created.
"Created To Be His Help Meet showed me the changes I needed to make in my life that ultimately led my husband to Christ. Simply the best book I've read in conjunction with the Bible on being a Godly wife."
Created To NEED A Help Meet by Michael and Debi Pearl is a marriage guide for men to give them a better understanding of their role as husbands and how to fulfill that role. Society is sending men a lot of mixed messages but Michael's book is direct, no nonsense and intimidating at times. Debi's input from a feminine perspective balances out Michael's testosterone intensity.
Both titles are scheduled for release in October 2011.
###