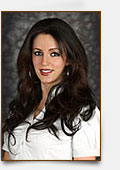 North Hollywood, CA (PRWEB) January 21, 2013
According to the Centers for Disease Control and Prevention, crooked or misaligned teeth can increase the risk of gum disease and other dental problems. Teeth that are crowded or widely spaced may be more difficult to keep clean, which means plaque and tartar can build up in those hard-to-reach places where they can then irritate and infect the gums. Orthodontic treatments can help improve dental hygiene, dental health and a patient's self-esteem by creating a more aesthetically pleasing smile. NoHo Dental Group, and North Hollywood Invisalign provider, Dr. Ghasri, are now offering an Invisalign special promotion to help patients better afford the treatments they need or want.
Dr. Poneh Ghasri, North Hollywood cosmetic dentist, is offering complimentary consultations to those who are interested in Invisalign treatment. Invisalign uses clear plastic aligners to move teeth comfortably and efficiently into a straighter, healthier position. The Invisalign promotion includes not just complimentary consultations but also complimentary records, including dental X-rays, images and impressions. Patients will be eligible for up to $1,000 off treatment, and qualified patients can benefit from no-interest financing programs. Complimentary teeth whitening, which has a $400 value, is included in the special. Invisalign treatment is often covered under dental insurance plans that offer coverage for orthodontic treatment and may be eligible for reimbursement under FSA plans. The offer expires January 31, 2013.
NoHo Dental Group offers a comprehensive range of dental treatments, including porcelain veneers, Lumineers, dental implants and Zoom whitening. Treatments are designed to help patients achieve or improve their dental health through a customized plan that addresses their unique needs. Prevention and education are the foundation of NoHo Dental Group's practice, and each treatment or procedure offered is designed to address specific issues and improve the health, function or appearance of the patient's smile.
About Dr. Ghasri, Dentist North Hollywood
North Hollywood teeth whitening dentist Dr. Ghasri is committed to helping her patients achieve healthier, happier, naturally beautiful smiles through the right combination of at-home care, dental hygiene, necessary treatments and cosmetic procedures. An experienced cosmetic dentist, Dr. Ghasri graduated with honors from UCLA and received her DDS from UCLA's school of Dentistry. She has completed advanced training in Invisalign, Lumineers and implant reconstruction and is an Invisalign Preferred Provider.
Contact
Poneh Ghasri, DDS
NoHo Dental Group
11126 Chandler Blvd.
North Hollywood, CA 91601
Phone: (818) 824-8228
Website: http://www.nohodentalgroup.com
# # #