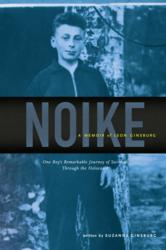 "Leon Ginsburg eluded almost certain death multiple times over the course of many close-call years. 'That's what makes his story unique—that he was so very young and so very resourceful'"
San Francisco, CA (PRWEB) March 22, 2012
Noike: A Memoir of Leon Ginsburg, One Boy's Remarkable Journey of Survival Through the Holocaust (ISBN 978-0-615-56199-8; $15; 218 pages; paperback http://www.noikethebook.com ), by Suzanne Ginsburg, is the harrowing yet inspiring account of Suzanne's father, one of the "hidden children" of the Holocaust in WWII Poland. Known as a child by his Hebrew name, Noike, Leon Ginsburg is the only child survivor from Maciejow, which was a shtetl of 5,000 Jews in Eastern Poland, and is now part of the Ukraine. He survived by instinct, making the right split second decisions that saved his life over and over again. Noike is his story.
Intended for a broad audience, ages 12 and up, this book gives readers the opportunity to bear witness to the Holocaust through the eyes of an extraordinary young man. The ideal book for commemorating Holocaust Remembrance Day on Thursday, April 19, Noike is now available from online retailers Amazon and Barnes & Noble, and idistributors Baker & Taylor and Ingram.
Little Noike, or Noah, in Hebrew, was an energetic but duty-bound little boy. Observant and alert, he watched as the Red Army invaded his small town in 1939, first cheating merchants, then outlawing the local language, taking over government, and sending those who protested to Siberia. Two years later, Hitler's German Army attacked, transforming the town even further by oppressing religious leaders and enacting harsh racial laws against Jews. Life became more difficult for Noike, his neighbors, and his family.
A young witness to German soldiers humiliating and beating revered Rabbis, burning ancient Holy books, and then rounding up and shooting all males from the ages of 16 to 60, Noike's young life turned into a nightmare. In one of the book's many heart-stopping moments, brave Noike, only nine years old in 1941, saved his mother, sister, three aunts, and his grandmother, by refusing to reveal their attic hiding place while threatened at Nazi gunpoint.
"If somebody is up there, you're kaput," the soldier warned Noike, as he pointed his cocked pistol "at the center of Noike's forehead, pressing it firmly against his skin. The gun looked like a cannon to him; the long, cold, metal barrel was numbing," Ginsburg reveals.
Large scale massacres, or aktions, eventually claimed Noike's family and thousands of neighbors. One fateful night, he watched from behind broken boards in a hiding place behind a grocery store, as family and friends were led away by SS soldiers to be shot and buried—some even alive—in lime mines. But Noike escaped.
"Leon Ginsburg eluded almost certain death multiple times over the course of many close-call years. 'That's what makes his story unique—that he was so very young and so very resourceful,'" says Dr. Rosanna Gatens, director of Florida Atlantic University's Center for Holocaust and Human Rights Education in a Palm Beach Post article about Mr. Ginsburg.
More than 1.5 million Jewish children died in the Holocaust. Of the almost one million Jewish children in Poland in 1939, only a few thousand survived. Many of those survivors were hidden and protected. Leon Ginsburg's story is unique because Noike wasn't actually hidden, but rather he lived under an assumed identity, surviving by his own instinct and determination, making his own decisions.
Noike's harrowing journey of escape from Maciejow twice, hiding in fields, sleeping in haystacks, cemeteries, and hidden basements, eating only fallen apples, and small bits of food that he worked, bartered and begged for, is truly remarkable. He also had an uncanny ability to find the right people to trust—including Seventh Day Adventists and Polish Catholic farmers.
Noike: A Memoir of Leon Ginsburg makes a valuable contribution towards the history of and study of the Holocaust. Leon Ginsburg was interviewed for Peter Jennings' seminal book, The Century (Doubleday 1989) and Jane Marks' The Hidden Children of the Holocaust (Ballantine 1993), but never before has his story been told in its entirety, nor in such riveting detail.
To request a review copy or schedule an interview, please contact Press (at) NoiketheBook (dot) com. Leon Ginsburg, formerly of New York, is now living in Florida; Suzanne Ginsburg lives in Francisco, and both are available for interviews.
# # #
Noike: A Memoir of Leon Ginsburg
One Boy's Remarkable Journey of Survival Through the Holocaust
by Suzanne Ginsburg
Avenger Books
ISBN: 978-0-615-56199-8
Paperback Original: $15, 218 pages; March 2012
http://www.NoikeTheBook.com