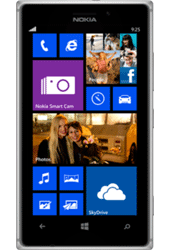 New deals on the Nokia Lumia 925 prove to be an attractive proposition and buyers will be at the benefit here. Add to it the features of the phone, it is a win-win deal in entirety.
Gainsborough, Lincolnshire (PRWEB UK) 29 June 2013
The advent of a wide spectrum of mobile phones on the market has definitely raised expectations from the buyer point of view. This skyward trend in people's expectations is probably the reason why mobile majors have been experimenting a lot and coming up with new launches very frequently. Launches were once a yearly or half yearly practice but now, are almost a monthly procedure.
And statistics clearly show us the picture that Samsung and Apple are on the top league of the buyer preference pyramid but once the most popular cellular brand Nokia is climbing up and how. The introduction of its competitive Lumia series of phones is taking the market by surprise and is close enough to the top echelon. Market trends show that the once converted following of Samsung is now reverting to its initial favourite, Nokia, after the Lumia series showed its mettle.
Among all the new Lumia smart phones, the brand new Nokia Lumia 925 is a potential performer which is viewed as a tough rival of Samsung's Galaxy series. Nokia users are delighted with the smooth Lumia interface and the vibrant colour body the phone has to offer. It is also known for its Windows 8 Operating System and the plethora of applications and features that one gets in it.
To help the Nokia fans get the best out of Nokia's new Lumia 925, the mobile comparison website Before You Buy Ltd has launched new deals on it. Joseph James, the Director of Before You Buy Ltd commented, "We've put up some exclusive deals for our viewers on the newly launched Nokia Lumia 925 and we're pretty optimistic about this new model. These offers will give a great deal of convenience and benefits to the buyers and help them make the best selection."
The deals that are made available at Before You Buy Ltd website are exclusive ones and promise a lot more than the buyers expect. The Before You Buy Ltd website also compares the new models of mobile phones with other phones to check on what features it has in addition to the others and what all things are missing from it. Comparing phones and prices have proved to be a very effective and preferred tool by global buyers before they choose to buy a mobile phone. This is where the advantage of this website can be taken by buyers to judge and know the mobile of their choice and take informed decisions. Apart from comparison benefits, the availability of exclusive deals on new phones is the principal reason why visitors flock to this site - http://www.beforeyoubuy.co.uk.