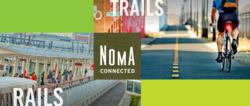 Washington DC (PRWEB) August 30, 2011
Capital Retail Group announced A-Deli Italian Café has signed a lease for 800 square feet in NoMa, a vibrant, growing neighborhood north of Union Station and the U.S. Capitol in Washington, D.C. The Café will be open by November at 1300 Second Street, NE, across from the Courtyard by Marriott and the New York Avenue Metro Station.
The privately owned deli chain was founded more than 25 years ago by Kawal Kapoor, and remains a family business. Kawal Kapoor says "We decided to come to NoMa because it's the next emerging business center. With all the new tenants moving in like the Department of Justice and NPR, we know there will be a need for more lunch options."
A-deli Italian café will serve breakfast and lunch featuring an Italian-American menu, offering diverse options such as steak and egg, lasagna, meatball and cheese sandwiches, Italian hoagies, and cheese steaks. The deli focuses on hot items and makes everything daily. Arun Kapoor, co-owner of A-Deli and son of Kawal Kapoor says their 8" cheese steaks and hot sandwiches have been popular items at their Herndon Virginia location. Kapoor states "Our customers want fresh food but are also very conscientious about how much they're spending for lunch. To meet the demand, most of our menu items are less than seven dollars."
Capital Retail Group and LeDroit Park Development Company are leasing the 8,000 square foot retail building constructed by the U.S. General Services Administration adjacent to the new headquarters of the U.S. Bureau of Alcohol, Tobacco, Firearms and Explosives (ATF). The retail building, featuring outdoor seating and direct access to Metro, is open to the public.
"A-Deli will provide great synergy with Five Guys and Perfect Pita," said Robert Tack CEO of Capital Retail Group. Added Carla Merritt of LeDroit Park Development Company "Kawal has a great track record and the experience needed to make this store a success."
Founded in 2006 by Robert Tack, Capital Retail Group provides a full range of brokerage and property management services to the commercial and government sectors in the Washington DC metropolitan area.
###