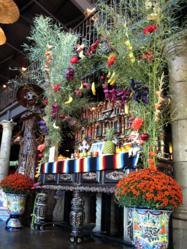 Dia de los Muertos celebration on the fantastically decorated mezzanine of No Mas! Cantina, overlooking views of downtown Atlanta...
Atlanta, GA (PRWEB) October 18, 2011
No Mas! Hacienda & Cantina celebrates the Mexican holiday, Dia de los Muertos, with a free fiesta, open to the public, on Wednesday, November 2, 2011, 7-10pm. The event will be on the mezzanine of No Mas! Cantina, fantastically decorated with eclectic Mexican décor and overlooking views of downtown Atlanta. General admission is free, with a special V.I.P. admission at $25. Live music, a costume contest, paper mache figurine demo, Tarot card reading, and sugar skull decorating all promise a fun evening. Live music will be provided by GoZon, as vocalist and guitarist Gustavo Gonzalez puts it, "'GoZon' (the one who enjoys the most) performs Rock with a Latin flavour or vice versa. We play energetic songs, dancing tunes, ballads, blues, rumba, and styles that serve one purpose: gozar la música. Some may say it's Cumbia Rock. Others may think it's Rock that make your hips move. We will be pleased even if you don't know what hit you."
Dia de los Muertos, a traditional Mexican holiday with roots dating back thousands of years, honors friends and family who have passed. Altars for the loved one are put on the specially cleaned grave or at home, with photos, marigolds, fruit, and candles, and a meal is "shared" with the dear departed, with all their favorite foods. Symbolizing Dia de los Muertos, the Catrina, a figure of a skeleton woman, dressed to the nines to party, or simply going about her business in day to day life, is a popular choice for costuming and face painting. No Mas! brings this time honored Mexican tradition to Atlanta with an impressive array of Catrinas from three inches to five feet tall – not to mention the nine foot Catrina permanently on display. Painstakingly created from ceramic, the hand painted Catrinas include every detail from the delicate, intricate bones of the hand to elaborate details of dress and accessories. No Mas! has spent 16 years bringing the arte de Mexico to Atlanta, honoring the artistic and creative endeavors of crafts of Mexico in many media, including carved wood, wrought iron, stone, blown glass, ceramics, and painting.
In addition to the paper mache demonstration during the fiesta, No Mas! is hosting paper mache figurine workshops on Saturday, Oct. 22 and 29 at 11am, and Tuesday, Oct. 25 and Thursday the 27 at 6pm, where Gina Espinoza of The Rialto Center for the Arts will teach classic figurine making and painting of the Catrina, calaca (skeleton), and other traditional items. The workshops will start promptly, with the Saturday workshops more children and family oriented, and the evening workshops more "Happy Hour".
More information can be found at http://www.NoMasAtlanta.com, purchase tickets from No Mas! at 404-215-9708. Video of the No Mas! Dia de los Muertos Altar, classic decorations, and Catrinas can be viewed here.
No Mas! Hacienda & Cantina, The Best of Mexico: Restaurant & Shopping, in historic Castleberry Hill, downtown Atlanta's art district, just half mile south of CNN. Award winning Mexican restaurant and adjacent huge showroom of handcrafted furnishings & accessories from more than 300 artisans in Mexico, with breakfast daily in ADios Cafe, and "All the Pottery in the World" in Bodega Garden. In its sixteenth year in Atlanta, this importer of handcrafted furnishings, lighting, accessories, art, and gifts, brings the culture of Mexico to Atlanta.
###