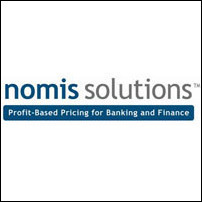 I've observed an increasing need in the marketplace to gain a deeper understanding of customer preferences and to improve the pricing process
San Bruno, CA (PRWEB) October 23, 2007
Nomis Solutions, the leader in Profit-based Pricing for banking and finance, today announced the appointment of Karen Beale as vice president of North American sales. Ms. Beale will assume immediate responsibility for leading and expanding the sales organization to meet the growing demand for the award-winning Nomis Price Optimizer Suite of solutions. She will report directly to Nomis Solutions' Chairman and CEO, Dennis Stradford.
The award-winning Nomis Price Optimizer solution helps banks and finance companies improve financial performance, as well as support compliance efforts by combining rigorous pricing processes with access to valuable insight about customer preferences. Nomis Solutions allows banks to move beyond risk-based pricing practices to a more advanced approach to pricing that incorporates customer preferences into the decision-making process.
"Karen brings us tremendous knowledge and a wealth of experience in the financial services market as well as a keen understanding of the value that pricing optimization solutions deliver to banks and finance companies," said Stradford. "With her energy, drive and proven track record in the industry, I am confident that Karen will continue to drive our leadership role in this growing market."
Prior to joining Nomis Solutions, Ms. Beale held various leadership roles within Fair Isaac Corporation, the most recent as Vice President, Integrated Client Network Leader, Large North American Banks. In this role, she led the client teams responsible for customer satisfaction and new business development across 20 of the largest North American Financial Institutions and had responsibility for a large multi-million dollar P&L business unit. With almost a decade of experience at Fair Isaac, including running Global Analytic Sales, Ms. Beale is well positioned to guide Nomis Solutions into the expanding market for Profit-based Pricing solutions within the financial services industry. Prior to working with Fair Isaac, she led Strategic Accounts for Experian Business Information in the U.K., part of Experian Group.
"I've observed an increasing need in the marketplace to gain a deeper understanding of customer preferences and to improve the pricing process," said Ms. Beale. "The value that we at Nomis Solutions bring to the table is that we help banks and finance companies achieve both, which results in significant financial, strategic and operational benefits. My goal is to build on the extraordinary talent that exists within Nomis Solutions in order to create a world-class team that can reach more banks and finance companies and enable them to benefit from pricing optimization solutions and realize significant performance improvements."
With Ms. Beale's appointment, Frank Rohde will move from the role of Vice President of Sales and Marketing to the role of Vice President of Product Management and Chief Marketing Officer.
Nomis Solutions recently announced two customer wins: AmeriCredit Corp., the largest subprime auto finance company in the United States, and Abbey, the sixth largest bank in the United Kingdom. Mortgage Technology Magazine just named Nomis Solutions one of "Tomorrow's Technology MVPs" and the company was one of three finalists in the "Most Innovative New Product" category for The European Banking Technology Readers' Choice Awards.
About Nomis Solutions
Nomis Solutions is the recognized leader in Profit-based Pricing for banking and finance. Powered by price optimization technology, Profit-based pricing is an innovative approach that enables executives to strategically use pricing to achieve improved financial results, gain insight into customer preferences, and support compliance. The award-winning Nomis Price Optimizer™ Suite is a set of business solutions that combines pricing analytics, optimization, and execution into a comprehensive pricing strategy and process.
The suite includes specific solutions for auto finance, home equity lending, personal lending, mortgage, and deposits. Each solution delivers quick time-to-benefit, increases profits and market share by 10-20%, and provides valuable insights about how customer preferences impact product and portfolio performance, within a strong compliance framework. Select customers include Abbey, AmeriCredit, Ford Motor Credit Company, GE Money, HBoS plc, and WaMu. Headquartered in San Bruno, USA, Nomis Solutions has offices in Charlotte, NC and London, United Kingdom. Visit http://www.nomissolutions.com or contact us at info(at)nomissolutions.com or 650-588-9800.
Nomis Solutions and Nomis Price Optimizer Suite are trademarks or registered trademarks of Nomis Solutions, in the United States and in other countries. Other product and company names herein may be the trademarks of their respective owners.
###