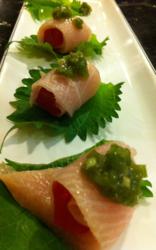 Nomura Sushi is located on the second floor at 14622 Ventura Blvd. in Sherman Oaks and is just new enough to help you avoid the big crowds.
Sherman Oaks, CA (PRWEB) June 19, 2012
"When Johnny Nomura contacted First Aid Global to install a first aid kit in his new restaurant 'Nomura Sushi', I was relieved to find that my favorite Sushi Chef hadn't fallen off the map," says T West, General Manager of First Aid Global. "I only half-expected him to ever call me, but when he did, I rushed over with a friend to sample some of his latest creations."
Nomura Sushi is located on the second floor at 14622 Ventura Blvd. in Sherman Oaks and is just new enough to help you avoid the big crowds.
"The restaurant has a great atmosphere as all the tables and Sushi Bar are located in one room," says West. "They have the same friendly staff and service found at most Sushi establishments including a great selection of Sake, but Johnny's experience enables him to apply his own unique take on fish, and that is where the magic begins. I began with an exquisite Oyster Shooter, courtesy of the cold waters off Washington State, while my friend enjoyed the best Salmon Skin Salad he'd ever had. Next, I asked for Spanish Mackerel and was happy to hear that Johnny still prepared the entire fish for presentation. It's a full-flavored fish that provides six pieces of Sushi as well as a crispy fried version of the remainder of the fish – head, tail and spine - delicious!"
Johnny Nomura has been making Sushi for 23 years. He was born in East Java Indonesia to Chinese and Japanese parents, lived and studied in Japan, and then worked in Los Angeles for several years before opening Nomura.
"Another revelation was his Salmon Tartar made with Smelt Egg and Ginger Sauce," West continues. "It was endowed with perfectly matched flavors and the crunchy texture of the wafers – a very satisfying dish. Finally, he served us his Hamami Appetizer composed of Ahi wrapped in Yellowtail Belly. It was served on mint leaves and topped with fresh chopped Wasabi. The flavors and juicy texture of fresh Wasabi compared to the powdered-mixed Wasabi are incredible. He told us this was only the third order he had ever served his customers, and it was by far some of the best Sashimi I'd ever experienced."
First Aid Global is a full-service First Aid, Safety and Emergency Preparedness company in Tarzana, CA that has been in business 15 years providing food service gloves and restocking First Aid Cabinets in restaurants throughout Los Angeles and Orange Counties. They also provide free shipping of first aid supplies and burn kits to their restaurant clients all along the Eastern Coast. Their line of Earthquake Preparedness Kits have reached customers in all 50 states and now include disaster preparedness for tornados, hurricanes, fire and smoke escape, and emergency blackouts or power failures on their new website http://www.PowerSurvival.com. For more information, visit their website at FirstAidGlobal.com or call them toll free at 866-305-1753.