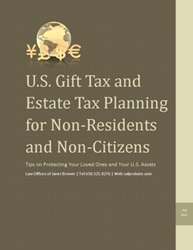 To many, Bay Area real estate seems like a bargain right now. Prices are still some of the lowest in years, and foreign nationals, among others, are paying cash -- sometimes millions of dollars in cash -- for property in San Francisco area communities.
Palo Alto, CA (PRWEB) February 21, 2011
Silicon Valley estate planning and probate lawyer Janet Brewer has released a new guide, "U.S. Gift Tax and Estate Tax Planning for Non-Residents and Non-Citizens", highlighting key issues to consider when aspects of an estate cross international borders. The free guide is available for download at calprobate.com/international
"Smart planning is essential because federal estate and gift tax laws are tough on non-citizens, even if the non-citizen has a 'green card,' " said Brewer, who frequently prepares estate plans for foreign nationals who own property or live in the U.S. In addition, many clients have assets both in the United States outside of the U.S. and not all countries recognize trusts and other tools that work within the United States.
"The tax effects of poor estate planning can be devastating," cautions Brewer. "And, as with all estate plans, there is no opportunity for a 'do-over.' Heirs and loved ones will have to live with the results of what is taken care of -- or not taken care of -- now."
While certified public accountants (CPAs), financial planners and other professionals can be helpful in the day-to-day management of financial affairs, it takes the special expertise of an estate planning attorney to make sure the transition of assets to heirs will go smoothly. International estate planning experience is all the more important when a non-citizen is involved.
The guide outlines key elements in an international estate plan, including:

What is considered "home" for the purpose of estate planning?
How the tax law treats non-citizens and non-residents differently from citizens
Treatment of minor children, including issues surrounding the choice and citizenship of a guardian
One useful estate planning tool, the Qualified Domestic Trust
"The tax rules for a noncitizen and nonresident are even more complex if he or she dies owning 'U.S. situs' assets," adds Brewer. "The most common U.S. situs assets are real estate located in the U.S., stock options in a U.S. company, stock ownership in a U.S. company, and a U.S. company's corporate bonds.
"For example, many people think land in Silicon Valley is very cheap right now. They are flocking to Los Altos, Palo Alto, Atherton, and other San Francisco Bay Area communities to purchase houses and condominiums. These real estate investors may be quite right … some of the real estate in the Bay Area is at its lowest price in years. But if they are not U.S. residents and something were to happen to them, they are only entitled to a $60,000 exemption from U.S. gift and estate taxes – non-resident aliens (NRAs) pay a much higher rate of gift and estate taxes than U.S. citizens. The good new is, with careful international estate planning, nonresidents and noncitizens can avoid tax traps."
"When someone works hard to build up an estate, it can be devastating for the family to see it eroded by fees and taxes that could have been avoided," said Brewer. "With this new guide as a start, families will know what kind of legal help they need, and the right questions to ask."
The guide is one in a series of estate planning and asset protection guides offered by Brewer. For example, Brewer published a year-end tax law update for Bay Area families in December; before that, she published an alert for Bay Area CPAs about gift tax law changes. In August she published a guide telling the dos and don'ts when picking a trustee in California estate planning. Those who opt in to Brewer's mailing list get the earliest notice about new resources when they come available.
About the Law Offices of Janet L. Brewer
Janet Brewer is a Palo Alto probate, trusts, and estate planning attorney with an advanced degree in tax law. She has practiced California estate planning, advanced gift-planning, and California probate law exclusively since 1991, and is Certified as a Specialist in Estate Planning and Probate Law by the California State Bar Board of Legal Specialization. Learn more at calprobate.com or call (650) 325-8276.
# # #