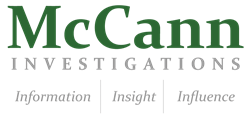 We are a one source investigations provider in non compete enforcement cases.
Houston, TX (PRWEB) December 08, 2012
McCann Investigations, a Texas-based private investigations firm, is pleased to announce the release of a case study titled "Enforcing Non-compete Agreements". McCann Investigations works with clients to gather forensically sound evidence to prove violations of non-compete agreements resulting in faster filing of litigation to cease the non-compete activity. In most non-compete violation cases, there is often a component of intellectual property theft. Intellectual property can include designs, drawings, plans, trade secrets or client lists. Non-compete violation cases can be as simple as the unauthorized download of a client list by an exiting employee or can be as serious as utilizing a company's designs and trade secrets to start a competing company. In either case, evidence must be gathered in order to present the case in court.
McCann Investigations utilizes computer forensics and traditional private investigations such as surveillance, background investigations and undercover work to gather evidence of non-compete violations. Computer forensics involves the imaging and extraction of data from the employee's company issued laptops, desktops and mobile devices. The computer forensics investigations will often reveal sufficient evidence, however, in some cases other covert investigative techniques such as GPS tracking of a company vehicle or undercover work is needed to discover intimate details of the violation.
"We are a one source investigations provider in non compete enforcement cases," says Daniel Weiss, Managing Partner and Licensed Private Investigator at McCann Investigations. "This ensures that the investigation is comprehensive and provides our client with the evidence they need to present their case and issue cease and desist demands or get temporary restraining orders."
About McCann Investigations:
http://www.mccanninvestigations.com
Facebook: https://www.facebook.com/pages/McCann-Investigations/203760582969139
Call us toll-free at 800-713-7670.
McCann Investigations is a full service private investigations firm that specializes in computer forensics (including mobile device forensics), digital debugging, network breach detection and remediation as well as traditional private investigations such as under cover work, surveillance and comprehensive background investigations.
McCann Investigations works with law firms, public and private companies, financial companies and individuals with cases such as divorce, child custody, fraud, embezzlement, digital debugging, intellectual property theft and network breach.