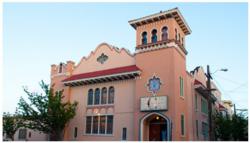 We try to use avenues that people can connect with, whether it's through music or art or the way we frame the gospel
San Francisco, CA (PRWEB) February 14, 2012
Cornerstone Church, a San Francisco Non-Denominational Christian Church which began in 1952 as three families meeting in a home, has grown to become a large, vibrant, diverse church community in the middle of San Francisco's Mission District. Known for their unique mix of traditional, non-denominational Bible teaching and an innovative use of music, visuals, and performing arts, Cornerstone began adding multiple services at their Mission campus to accommodate a steady growth in attendance. As those services began to fill, Cornerstone recognized a need for expanded facilities, and so the decision was made to adopt a multi-site approach.
"We try to use avenues that people can connect with, whether it's through music or art or the way we frame the gospel. While we do not change the integrity of the scriptures, we do try to create an openness of dialogue," says Lead Pastor Terry Brisbane, a native of San Francisco who has seen Cornerstone grow from a small church to its current multi-site expansion. "The church exists to share the good news of Jesus Christ in such a way that people experience a growing and vibrant kind of life."
Cornerstone's new Merced Campus, named for it's close proximity to Lake Merced, was chosen to provide people and families living on the west side of San Francisco and the Peninsula with a more accessible location. "One church/multiple locations" is how Cornerstone describes this new approach to help make it clear that regardless of which campus one attends, the church's unique ministry approach and weekend experience will be the same at both. The hope is that the decision to expand will make it possible for more people to experience growth at both a practical and spiritual level.
Cornerstone's Mission Campus, located at 3459 17th Street between Guerrero and Valencia, holds four weekend services: Saturday at 7pm, and Sunday mornings at 9am, 10:30am, and Noon. Its new Merced Campus, located at 825 Brotherhood Way, holds one service Sunday morning at 11am. In addition to its two campuses, San Francisco's spiritual growth church, Cornerstone Church maintains a vibrant online presence, including its website which provides resources and information, and hosts an archive of past messages, Christian music, and video/drama presentations, as well as a Facebook page, Twitter feed, and a weekly podcast.
"Cornerstone is a friendly place for those with a budding curiosity in Christianity, as well as a good place for people to sink roots," says Teddy B., a regular Cornerstone Church attendee. "I've made some awesome friends there to grow in faith with. It's a good place to invite family, co-workers and friends."
For more information about Cornerstone Church, call (415) 861-2439, visit them on the web at http://www.cornerstone-sf.org , or email them at info(at)cornerstone-sf(dot)org.
About Cornerstone Church of San Francisco
Cornerstone Church of San Francisco has been a part of San Francisco's church community since 1952. With five weekend services hosted at two campuses each week, Cornerstone is known for its welcoming environment, solid teaching, and innovative use of music and the arts. Cornerstone Church's Mission Campus services are Saturday evenings at 7pm, and Sunday mornings at 9am, 10:30am, and Noon. Their Merced Campus service is 11am Sunday mornings.
###