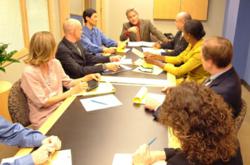 This is our way of giving back to the community.
San Francisco, CA (PRWEB) August 28, 2012
Non-profit organizations now have an excellent location to hold their board meetings in downtown San Francisco. A big plus: this option is currently free, courtesy of Intelligent Office San Francisco, which is offering complimentary use of its conference rooms to non-profits in the Bay Area. The offer is good for a set number of hours per month through the end of the year, and will run for only a limited time.
"Conference room rentals are a premium in downtown San Francisco," says Wilson Tandiono, President and CEO of Intelligent Office San Francisco. "This is our way of giving back to the community and forging closer ties to the organizations that help make the San Francisco Bay Area such a wonderful place to live and work."
Intelligent Office San Francisco operates a shared office facility situated at 100 Pine Street, in the heart of the Financial District. The facility is highly accessible by public transportation and freeways that connect the city. It provides an upscale office environment in a Class A building that projects a professional image appropriate for business engagements.
The conference rooms are well suited for board meetings and fully equipped with state-of-the-art presentation tools and office amenities. Affordable hourly rates are available if a non-profit requires additional use of the facilities beyond the complimentary period. Intelligent Office is also extending its hourly discounted member rates to non-profits.
Intelligent Office's executive office suite, virtual office, conference room rental, and virtual receptionist solutions provide support for entrepreneurs, mobile executives, professional services firms, independent contractors, satellite offices, non-profits, and small and home-based businesses. Virtual office services help businesses and non-profits save on overhead costs and gain flexibility while projecting a professional presence.
For more information or to take advantage of this special promotion, please call 415-745-3300, or visit: http://www.intelligentoffice.com/locations/california/san-francisco/san-francisco/non_profit-promotion.aspx.
About Intelligent Office:
Intelligent Office is the leading virtual office service provider for mobile executives and small businesses in North America. The company is headquartered in Boulder, Colo., and has over 50 locations in North America. Intelligent Office helps clients grow their businesses and work smarter by combining professional staffing with the physical and technological infrastructure of a virtual office. For more information on services, go to http://www.intelligentoffice.com/locations/california/san-francisco/san-francisco.aspx.