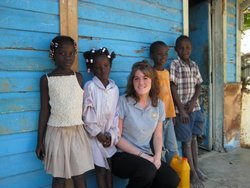 Being a new start-up with modest sales, my goal is to donate 1,000 pair of shoes by the end of the year. If we can do more, I would be very excited
Toledo, Ohio (PRWEB) April 28, 2009
21-year-old entrepreneur and footwear retailer Alex Curavo is pledging to donate more than 1,000 pair of shoes to children in third world countries by the end of the year through his newest venture, My Kids Feet.
"More than 300 million children around the world walk on dirt roads and in dangerous debris-filled fields every day," said Curavo. "I witnessed this first hand last January while working for another non-profit organization in rural areas of the Dominican Republic. It broke my heart to see young children walking around barefoot on unpaved roads covered in trash and broken glass. I want to do something to help those children."
My Kids Feet has partnered with non-profit Soles 4 Souls and has pledged to donate one new pair of shoes or sandals to a child in need for every pair of Morgan & Milo or Dinosoles brand children's shoes sold on the company's website in 2009. "Being a new start-up with modest sales, my goal is to donate 1,000 pair of shoes by the end of the year. If we can do more, I would be very excited," Curavo said.
Customers can join the cause by purchasing a pair of Morgan & Milo or Dinosoles shoes for their children at http://www.mykidsfeet.com or donating a pair of shoes directly by mailing them to a Soles 4 Souls collection center listed at http://www.soles4souls.com.
About My Kids Feet:
My Kids Feet is the brainchild of 21-year-old serial entrepreneur Alex Curavo, who launched the company after spending seven years as a sales associate, buyer and manager for children's footwear retailer Stride Rite. My Kids Feet currently features eleven major brands of children's footwear, including Stride Rite, Saucony Kids, Tsukihoshi, Dinosoles, Robeez, Nickelodeon Slimers, Sperry Top-Sider and Morgan and Milo. For more information, please visit http://www.mykidsfeet.com.
###