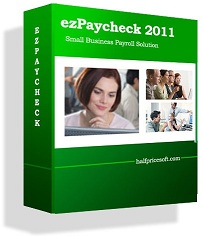 ezPaycheck has always had highly flexible options for setting up deductions and other payroll factors that fit the needs of our customers.
Orlando, FL (PRWEB) October 03, 2011
Recession hits businesses hard, as well as non-profits. Since people and institutions have less disposable income, nonprofits receive fewer donations and struggle to keep their charity functioning. In tough economic times, how to be efficient is critical for any church and non-profit organization. Small business payroll software provider, Halfpricesoft.com (http://www.halfpricesoft.com) released the new improved ezPaycheck payroll software in time, which makes it easy and quick to change from running payroll by hand to computerized payroll.
This affordable, super-simple, custom streamlined payroll and tax software - available at http://www.halfpricesoft.com/payroll_software_download.asp - is ideal for non-profits and businesses with unique tax situations. Churches and other religious organizations, who don't deduct FICA taxes for clergy members, will find these new control features particularly appealing.
The newly upgraded version of the already popular product was updated according to the suggestions from customers including:
New form-level Help buttons - provide more information about functions that customers frequently have questions about, including W3 control numbers, W2 establishment numbers, state ID's, and other data required by forms.
Easier license key registration - makes it faster and easier to register a purchased license key and unlock the trial software for unlimited use.
Faster, easier Year-to-Date key function - increases the payroll software's ease of use when starting use of the software in the middle of a fiscal year.
Updated "Generating New Paycheck" screen - includes a new Help button on the screen and new MEMO field for more detailed notes.
Improved data back-up and restore features - makes it faster and easier to back up payroll data for security
"ezPaycheck has always had highly flexible options for setting up deductions and other payroll factors that fit the needs of our customers," said Halfpricesoft.com's founder Dr. Ge. "The new features added to the 2011 edition are based on customers' requests while maintaining the ease of use that ezPaycheck customers have come to love."
Realizing that many small businesses are still suffering in an economy that continues to lag, Halfpricesoft.com announces the new special promotion on ezPaycheck 2011 and 2012 bundle version. Small business owners who purchase ezPaycheck 2011 from halfpricesoft.com for the low price of $89 before Oct 15, 2011 can get the 2012 edition of ezPaycheck for just $1 more.
About Halfpricesoft.com and ezPaycheck payroll software
ezPaycheck is developed and distributed by Halfpricesoft.com, a Louisville, Ky.-based firm committed to creating affordable and easy-to-use financial software for small businesses. Additional small-business payroll software titles available from Halfpricesoft.com include w2 1099 software, check printing software, employee time tracking software and barcode printing software.
To streamline the payroll processing, visit the site at: http://www.halfpricesoft.com/index.asp
###