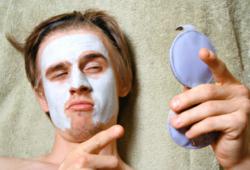 In February, Non Surgical Face Lift Mask sales to men totaled a whopping 40%
Tampa, FL (PRWEB) March 07, 2012
"Give him a mask and he will tell you the truth," said Oscar Wilde. Obviously, Wilde never encountered the Face Lift Without Surgery Mask by Beau Visage from Liberty Health Network. As sales would indicate, women and men are flocking to the product to turn back the hands of time, at least in the eyes of onlookers. By looking younger, many customers feel their options for everything from romance to employment are enhanced.
"A few years ago, if you said I would be selling a Non Surgical Face Lift Mask, I would have said you are crazy. If you would have said I would be using one, I would have been convinced you were crazy!" said LHN Chief Operating Officer Russell Bly. "I am not alone either. Many men are using the products we hear. Looking older and distinguished now seems passe. Nobody wants to be the last to be hired or promoted, or the first to be laid off because of appearance. While it may never really make the official employment transcripts, is there really any doubt that someone who looks younger and healthier has the advantage in employment?" asks Bly.
"The numbers tell the story," Says Tracy Grevert, Chief Financial Officer with LHN. "Our Non Surgical Face Lift Mask and related products are now our top sellers. And while we've seen phenomenal growth, the real story is in demographics. Last year, women over the age of 50 were our number one customer group. Today while the number 50+ year old customers is holding steady, we seeing a huge increase in the 40-50 year-old group. Additionally, men are accounting for an astonishing number of sales. In February, Non Surgical Face Lift Mask sales to men totaled a whopping 40,." said Grevert.
The news is great for LHN, with an impressive array of anti aging skin care and nutritional supplements. With estimates that by 2030 the 65-plus population will double to about 71.5 million, and by 2050 will grow to 86.7 million people, the marketplace for anti aging skin care and nutritional supplements is truly explosive.
About Liberty Health Network, LLC
Liberty Health Network is one of the nation's leading Direct and Internet Marketing companies with a state-of-the-art Global Distribution facility in Tampa Bay, Fl. For 12 Years, the Liberty Health Network name has been synonymous with high quality Mortechem-Free Nutritional Supplements, Anti Aging Skin Care, and Internet Web Applications. The statements made on this website have not been evaluated by the Food & Drug Administration. These products are not intended to diagnose, prevent, treat, or cure any disease.
Businesses or Individuals interested in distributing Liberty Products or requiring more information on this topic should contact Chief Operating Officer Russell Bly at (813) 774-8191 or e-mail at office(at)libertyhealthbiz(dot)com.