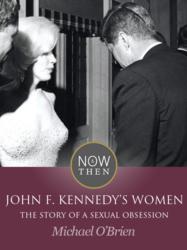 He was nearly a pathological philanderer and was usually incapable of viewing a woman as anything but a sex object.
Los Angeles, CA (PRWEB) January 05, 2012
"Millions of people around the world consider John F. Kennedy a great president. He tried to reduce the risk of nuclear holocaust by miscalculation. He was a catalyst for activism among the nation's youth, as shown by his support for the Peace Corps. His major speeches on civil rights, détente with the Soviet Union, and the nuclear test ban were brilliant. On the other hand, there were unfortunate blemishes and failures on Kennedy's record. Among them was a serious weakness involving his personal attitude toward women. He was nearly a pathological philanderer and was usually incapable of viewing a woman as anything but a sex object," writes Michael O'Brien in John F. Kennedy's Women: The Story of a Sexual Obsession.
In this original nonfiction book published by Now and Then Reader, renowned Kennedy historian Michael O'Brien takes a comprehensive look at the feature of Camelot that remained largely under the radar during the White House years: Kennedy's womanizing.
Michael O'Brien is the author of the widely praised John F. Kennedy: A Biography, a full-scale study based on eleven years' research into letters, diaries, financial papers, medical records, manuscripts, and oral histories; and a concise analytical life of the president, Rethinking Kennedy. In his latest look at one of the United States' most-favored presidents, O'Brien argues that Kennedy's approach to women and sex was near pathological and well-beyond the reaches of the media's imagination at the time. The record that he puts forth in this 40-page piece makes for an astonishing piece of presidential history.
John F. Kennedy's Women is available exclusively as an Amazon Kindle book, a Barnes & Noble Nook book or through Apple iTunes iBookstore for $2.99.
The new digital title headlines a growing list of short-form nonfiction books published by Now and Then Reader, the publishing house co-founded by industry veteran Ivan R. Dee. Now and Then titles are quick reads, typically ranging from 5,000 to 25,000 words in length and focus on writings that are historically based. The company's list emphasizes original works but also includes excerpts from forthcoming books and reprints of material that otherwise isn't readily available for e-readers. Additionally, a selection of free ebooks will be released each month to accompany Now and Then's paid content.
Now and Then Reader's nonfiction titles and contributors are profiled on the company's website, at http://www.nowandthenreader.com. Previews of each title are available on the site and via the company's Facebook page, http://www.facebook.com/nowandthenreader.
For a review copy of John F. Kennedy's Women or to schedule an interview with Michael O'Brien, please contact Chandos Erwin at chandos(at)nowandthenreader(dot)com or (310) 929-7927
###