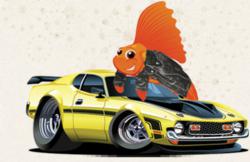 Chicago, IL (PRWEB) November 06, 2012
RoadFish.com men's lifestyle and finance magazine today issued their support of Wisconsin-based company Ways to Work, a non-profit that provides working class and low income families with low interest car loans while aiding their clients in improving their credit score and chipping away at established debt. RoadFish.com's take on this may serve to help other working class families looking to purchase cars by raising awareness about this company and the aid they can provide to those who need it.
Niala Boodhoo of WBEZ 91.5, a Chicago-based public radio station, recently reported that car repossessions aren't an uncommon occurrence for low-income families who are juggling car payments with bills and rent or a mortgage. Boodhoo states that another challenge facing this demographic of consumers is that if they have bad or no credit, one of their only options is to take out a loan from a "buy here, pay here" car lot with interest rates that are as much as 30%. Milwaukee, Wisconson-based nonprofit Ways to Work steps in by providing working class families with low interest car loans while at the same time requiring them to take financial classes and clean up their credit to a decent range.
RoadFish.com is grateful that there is an ally for families who may not have any other means to purchase a car and who could use a financial 101. RoadFish.com's Senior staff writer is quoted as saying, "I was reading in Boodhoo's article that one woman whose car got repossessed was taking the bus 15 hours a week, or 30 hours in two weeks. That's about the same amount of time as one would put into a part-time job working minimal hours. It's just crazy that's how much time she spends on public transportation. It makes me feel grateful that there is a place for people to go, if they are serious about cleaning up their credit, erasing their debt, and taking the other necessary steps towards earning a loan and purchasing a car. It's great that there is such an outlet available for people, not just a bank advertising that they'll sell you a car regardless of how bad your credit is—and then charging you 30% interest on it. I can see this company really helping."
The above-mentioned article states that Ways to Work partners with other local social service organizations, such as Salvation Army, to provide loans. Typically its clients fall into the range of living either right at or below the poverty line, and most have either poor credit or none at all. Ways to Work gives these families a shot at earning a loan with a whopping 8% in interest—a far cry from the 30% interest rate that other banks will charge people of this demographic—and what's more, the process of obtaining a loan also differs greatly from other programs in that it requires applicants to attend a financial class which educates them about loans as well as credit scores. They are also paired with a loan officer who works with them to develop a plan to pay off debt and tidy up their score.
RoadFish.com is happy to see the process in which Ways to Work has in place for its applicants, touting it as the answer to more than simply buying a car. RoadFish.com's Senior staff writer is quoted as saying, "This type of program is exactly what our country needs. It's not simply saying, 'Oh, you need a loan? Sure, here you go.' It's helping people really grasp the concept of what it means to have good credit, and how to make that goal a reality. It's aiding its clients with setting in place a budget to pay off their debts and requiring them to take financial classes so that giving them a loan is not a moot point. I love the concept, and the work they're doing."
According to Ways to Work's website, since 1984 the agency has helped 32,000 families and provided over $63 million in car loans. The site states that the agency has a network of over 50 loan offices situated around the U.S., and its supporters include Walmart, Bank of America, and Prudential.
About RoadFish.com
RoadFish.com is an online lifestyle and finance magazine that feature such articles as men's fashion, adventures, and online dating. It is targeted at men in their 30's and 40's, who have generally already achieved some success in life and are endeavoring towards a new goal. RoadFish.com covers current events of interest to men of this age group such as outdoor adventures, men's luxury items, hot chicks, and personal finance articles including tips to maintain steady credit. It is a publication owned by Purpose Inc.