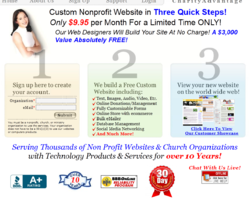 It is essential for every organization to have a professional website design, but even more so for non-profit websites.
(PRWEB) July 22, 2011
CharityAdvantage.com has decided to extend their special promotion. Non-profit organizations can have websites designed for free, in three easy steps, and the price for web hosting is still only $9.95 per month. Charity Advantage owners have not decided yet how long the promotion will continue.
CharityAdvantage.com was founded over ten years ago to provide non-profit web design exclusively for non-profit organizations and churches. Founder David Epstein stresses that "organizations that have professionally designed non-profit websites can increase traffic, length of visitor traffic, and donations".
Charity Advantage is different than many of the other website designers. The specialization in dealing with non-profit website design has launched them to the top of the providers for leading charities. With thousands of clients, this is one company that has learned to target what charities need.
It is essential for every organization to have a professional website design, but even more so for non-profit websites. As the founder David Epstein explains, non-profits heavy reliance on donations makes it more important for non-profits to have an attractive, easy to navigate website. In the changing social norms, being able to see where money is going, and having an easy way to make online donations, can translate into success or failure for organizations that depend on giving.
Any organization's website is the cover to their book, and visitors will judge by the cover. Once visitors have found a website, the ease of navigation will cause them to keep clicking on new pages, or to exit before they view the site.
Charityadvantage.com offers over 2,300 website design options, making it easy for any organization to find the right look for their company. The professionals at charityadvantage.com have non-profit web design experts that work specifically with each organization to create a website that is beautiful and effective. While many sites offer design services, the cost is often prohibitive. The designers through this company provide the design services for no additional charge. This value is valued at up to $3,000, free to non-profit websites.
In addition to creating a beautiful website, non-profit companies also want a website that will get the rankings in search engines. Charityadvantage.com provides proprietary software to clients to make sure their websites will be at the top of the search results.
Professionally designed non-profit websites created by charityadvantage.com also offer standard services in the hosting fee that are often premium options with other companies. Visitors to non-profit websites are looking for specific features to optimize the visit.
Standard services with charityadvanatage.com include online stores and e-commerce options, making it easier than ever to accept donations and sell products. Marketing tools are also streamlined, making mass email campaigns simple. Social connectivity with current popular sites is also easy to incorporate, such as Facebook and Twitter.
Currently, charityadvantage.com is offering not only a free non-profit website design, but hosting fees have been lowered from $39.95 to $9.95 a month for a very limited time. This makes it a simple choice for any non-profit organization.
ABOUT CHARITYADVANTAGE.COM: Operating in offices just outside of San Diego, CA, Charity Advantage has been specializing in creating websites exclusively for charity and other not for profit organizations for over ten years. They are the only company that offers a complete web design and hosting capabilities to non-profit organizations at one low price.
CONTACT:
Charity Advantage
425 E. Alvarado Street, Suite E
Fallbrook, CA 92028
800-677-4180
###