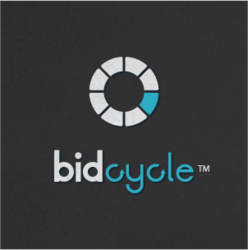 "Giving back is at the heart of what we believe, and our goal is to create a new source of funding that supports each Beneficiary's mission."

Hunter Harrison, bidcycle Founder
Erie, PA (PRWEB) August 23, 2012
Bidcycle.com, an innovative auction website that was created to provide consumers with opportunities to save 50% or more on great products while also supporting their favorite nonprofit organizations, officially unveiled its website today at http://www.bidcycle.com. The company's auctions are unique in style and functionality. They utilize the tagline 'the fastest, easiest & most rewarding auction on the planet' to make this distinction.
"When we say 'the fastest auction on the planet,' we're referring to the fact that our auctions function without timers. There are a limited number of bids available for each product, and once those bids have been sold, the auction closes...and a winner is announced. This causes some auctions to cycle very fast," according to Jeff Parnell, the company's CEO and co-founder.
From a look-and-feel standpoint, bidcycle's distinctive Auction Floor layout utilizes a "virtual auction board" with 120 bid positions available for purchase in each auction (https://bidcycle.com/auction.php). Consumers place bids by simply clicking on any available bid position, but unlike other auction sites—where the winner places the final bid—the way to win a bidcycle auction is to be the user who buys the most bids. More simply, to win: outbid your competition. Every time a bid is placed, the position on the board changes color and becomes unavailable to other bidders. All bids are tallied in real-time, and once all bids are sold, the auction closes. The bidder who purchased the most bids in the auction is then declared the winner.
Unlike typical e-auctions, the bidder is not able to determine how many consumers are placing competitive bids. According to Hunter Harrison, the company founder who created the auction concept and the bidcycle brand's distinctive appearance, "not knowing how many bidders you're up against creates a strategic element that is unlike anything else online. Predicting how many bidders are participating in the auction is quite important to forecasting how many bids it will take to win the auction. The 'guessing game' is what makes the auction process so fun and exciting."
In launching the business, bidcycle's founding team also believed that it was important to appeal to its "unsuccessful" bidders. As a result, the company created "bidcycle Bidders Assurance," which provides non-winning bidders with an opportunity to purchase the item that they were trying to win. Bidders Assurance applies the cost of their bids (minus the 10% nonprofit donation) toward the retail value of the item. This way, even an auction loser can still win (complete details of Bidder's Assurance and the auction process are explained in the company's Terms & Conditions on its website).
Given the company's commitment to partner with nonprofits, bidcycle's relationships with these organizations (called "bidcycle Beneficiaries") is another hallmark of their business model. As Harrison states, "Giving back is at the heart of what we believe, and our goal is to create a new source of funding that supports each Beneficiary's mission." As proof, the company donates 10 percent of all bids purchased on the website to a nonprofit that the customer pre-selects. This "customer empowerment" (allowing them to decide which organizations will benefit) is a key differentiator compared to other auction websites.
As the business launches, Parnell points out that bidcycle is very pleased with its roster of Beneficiaries. "These high quality organizations address key societal needs across military/veterans affairs, medical research, health, humanitarian aid, ministry, and economic development, and we're excited to have each of them onboard. At the same time, the nonprofit sector is unbelievably diverse, and our fundraising platform allows us to add complementary organizations whose missions are synergistic with those of our current partners. This will also expand our reach into new customer segments."
ABOUT BIDCYCLE, LLC:
Based in Erie, Pennsylvania, bidcycle was created to combine online auctions and empowered fundraising. With a unique platform that changes the way consumers bid, win, and enjoy significant savings on great products and services, bidcycle allow its participants to choose their favorite nonprofit each time they purchase bids. bidcycle, LLC is incorporated in North Carolina.
CONTACT:
Jeff Parnell, CEO (e-mail: JParnell(at)bidcycle(dot)com; phone: 814.440.5731)