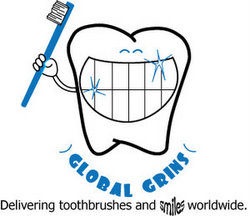 (PRWEB) April 12, 2012
Adding 100,000 toothbrushes to be delivered by the U.S. Navy to the nearly 150,000 already delivered in its first year moves nonprofit Global Grins (http://www.globalgrins.org) closer to its goal of delivering more than 1,000,000 toothbrushes to impoverished people around the globe in its first 5 years of operation.
The Navy has loaded 100,000 Global Grins toothbrushes on the USNS Mercy, which departs San Diego in April on the Pacific Partnership humanitarian mission to Vietnam, Cambodia, the Philippines and Indonesia. Hundreds of international volunteers, including many doctors and dentists, will travel to Southeast Asia on board the Mercy to treat people in need of medical and dental care and to deliver toothbrushes.
The vision of longtime Laguna Beach couple Todd and Joselyn Miller, Global Grins is a 501(c)(3) that addresses the critical need of oral hygiene and its direct connection to personal health and self-esteem. In many parts of the world, the daily care and maintenance of teeth is nonexistent. A recent report presented to the United Nations cited that there are more cell phones in the world than toothbrushes. There are billions of people without toothbrushes.
Research has shown the direct connection between poor oral hygiene and serious health issues, including stroke, heart disease, diabetes, HIV, cancer and pregnancy complications. Global Grins is dedicated to not only raising awareness about this important connection, but directly supplying those most in need with the most important tool in improving oral health: a toothbrush.
"We wanted to give back by supplying those in need with something that was simple, yet would have a positive impact on many lives around the world," said Joselyn Miller, co-founder of Global Grins. "Toothbrushes were the answer. Poor oral hygiene has been linked to so many health conditions."
Having traveled the world extensively, the Millers decided they wanted to show their appreciation to the people and cultures they had encountered along the way. One unifying quality on their travels were the smiles that brightened their days, whether in Africa, Asia or Latin America. To keep the world smiling, the Millers formed Global Grins to address the most basic of health needs, oral hygiene.
What began as a small project involving family and friends is now growing into a movement, as the "Global Grins Delivery Squad" has hand-carried toothbrushes into dozens of countries, as well as parts of the U.S. Any one with travel plans who wants to add a meaningful dimension to their trip is encouraged to contact Global Grins to receive a box of 100 toothbrushes to take with them and deliver to an orphanage, clinic, school, hospital, or shelter at their destination.
"In addition to the shipment going to the Navy, we recently received a shipment of another 100,000 toothbrushes which are being stored in our garage. These will be delivered by our Delivery Squad worldwide to people in need," said Todd Miller, a commercial real estate investor and executive. "We didn't quite know where this would go. But clearly the important concept of giving back in a meaningful way is catching on through Global Grins."
About Global Grins
Global Grins is an Irvine-based 501(c)(3) nonprofit that delivers toothbrushes to impoverished and disadvantaged people worldwide to cause a positive and direct impact on their health and self-esteem. Research confirms that poor oral hygiene can cause serious health issues and even death by promoting the spread of bacteria in the body, increasing the risk of heart disease, stroke, cancer, diabetes and pregnancy complications, not to mention tooth loss, gingivitis and cavities. Global Grins was launched by Todd and Joselyn Miller, a Laguna Beach couple who have traveled the world and have been moved by the smiles that have greeted them on their journeys to seven continents. For more information, visit globalgrins.org.