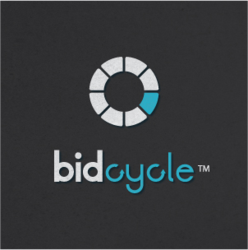 We wanted to completely change the game. Sure, it would be easier to replicate an existing business model. But there's no fun in that.

Hunter Harrison,
Co-Founder and Creator
Erie, Pennsylvania (PRWEB) August 31, 2012
bidcycle isn't your typical auction site. The way you bid is different. The way you win is different. Even the way you lose is different. The company is quietly changing the industry, for the better.
It didn't take long for the first auction to close. With only 120 bids available, the bidcycle.com online auction board filled up quicker than a rain gauge in a hurricane. Once the last bid was placed, the first bidcycle winner was crowned, and he received a Google Nexus 7 tablet for more than 60% off retail.
The auction model, while revolutionary, is really quite simple. Products are listed for sale on the website's auction floor, but unlike most online auctions--where the winner is the participant who places the last bid--the goal of a bidcycle bidder is to purchase the most bids. The kicker: there's only a limited number available in each auction, and once all the bids in the auction are taken, it closes.
"We wanted to completely change the game. Sure, it would be easier to replicate an existing business model—such as penny auctions or flash sales—than to alter the rules altogether. But there's no fun in that. Our goal at bidcycle is to provide a ground-breaking shopping experience that is fun and exciting," said company co-founder and creator Hunter Harrison.
The limited bid structure isn't the only thing that sets bidcycle auctions apart. Because bidders share the cost of items with other users, winners benefit from reduced pricing. Every bidcycle auction guarantees at least a 50% discount to the winner. The site also enables users to give back by donating 10% of all bids purchased on bidcycle.com to the bidder's favorite nonprofit organization. Bidders select their "Beneficiary of choice" from a list at checkout, involving them directly in the giving process.
According to Jeff Parnell, the company's CEO: "bidcycle is very appealing to consumers who want to support great nonprofits in an exciting—but meaningful—way. We set out to create a business that would truly stand for something, and we back up this pledge by allowing our customers to specify which nonprofit organizations their donations support."
bidcycle's roster of nonprofits—referred to as "bidcycle Beneficiaries"—represents a diverse set of causes. According to Parnell, "we've brought an excellent group of organizations onboard for our launch. These nonprofits support our military, veterans, and their families; provide humanitarian aid; fuel job growth; address spiritual needs; and pioneer a revolutionary cancer treatment. From a business standpoint, while it's important that we communicate the unique advantages of our auction model, we are also on a mission to benefit the greater good."
ABOUT BIDCYCLE, LLC:
Based in Erie, Pennsylvania, bidcycle was created to combine online auctions and empowered fundraising. With a unique platform that changes the way consumers bid, win, and enjoy significant savings on great products and services, bidcycle allows its participants to support their favorite nonprofit each time they purchase bids. The company is incorporated in North Carolina.
CONTACT:
Jeff Parnell, CEO (e-mail: JParnell(at)bidcycle(dot)com; phone: 814.440.5731)