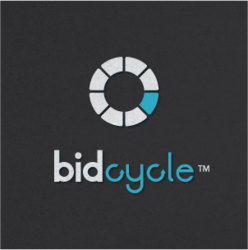 We are honored to team up with an innovative company like bidcycle and are grateful for their commitment to the men and women who have worn our nation's uniform."

John Pickens
VeteransPlus Executive Director
Erie, Pennsylvania (PRWEB) September 13, 2012
When bidcycle.com launched its innovative auction business only a few weeks ago, its stated mission was to provide consumers with great savings opportunities and an opportunity to fund nonprofit causes by donating 10 percent of every bid purchased to an organization that the consumer chooses. Today, the company is featuring a promotion that many believe is ideal for supporters of military and veterans organizations.
With the NFL and college football seasons now underway, bidcycle is offering new and current customers $25 in officially-licensed sports merchandise when they spend $50 to purchase bid tokens for the company's auctions.
"For a limited time, when a customer purchases $50 worth of bids to participate in our innovative auctions, we will provide them with a $25 e-card to spend at Fanatics.com, a world class online retailer that carries more than 300,000 licensed sports products. So many of our military and veterans love football, so this promotion is a great way to remind Americans that those who serve in the military make it possible for the rest of us to enjoy a game on a beautiful fall afternoon," notes Jeff Parnell, CEO of bidcycle, LLC.
Christoper Fitzpatrick, Deputy Director of Strategic Partnerships for VeteransPlus—an award-winning nonprofit that provides financial guidance to military, veterans, and their families—is excited about the tie-in. "With the idea of supporting veterans and the smell of fall sports in the air, what a great idea: to combine them both with bidcycle and a great concept."
In addition to officially-licensed NFL and NCAA college team products, Fanatics.com offers a vast selection of merchandise featuring athletes and teams from Major League Baseball, the NBA, the NHL, NASCAR, and more. This broad-based appeal also makes the "spend $50, get $25 back" promotion attractive to fans of other sports.
Regardless of a consumer's sports preference, VeteransPlus looks forward to a successful promotion. "Thanks to our partnership with bidcycle.com, VeteransPlus can provide more financial assistance, education and counseling to American heroes. We are honored to team up with an innovative company like bidcycle and are grateful for their commitment to the men and women who have worn our nation's uniform," said John Pickens, the nonprofit organization's Executive Director.
According to bidcycle officials, no special promotion codes or links are required to take advantage of the Fanatics.com offer. During the promotion, the e-card will automatically be provided to eligible customers within two business days of their purchase. Promotion details will be provided and updated on the company's Facebook page.
ABOUT VETERANS PLUS
VeteransPlus, Inc. a national non-profit financial education corporation was founded in the spring of 2008 and was granted 501(c)(3)status in October of 2009. Whether the engagement is through face to face seminars at Yellow Ribbon, VA and other OEF/OIF outreach events, by appointments requested through their interactive website or by phoning the inbound toll-free call center, VeteransPlus is available to offer sound guidance aimed at financial wellness. Regardless of duty status or rank, their singular goal is to help establish a better quality of life and a solid financial future for the men and women who have worn this nation's uniform. Through agreements with the Departments of Defense and Veterans Affairs, VeteransPlus serves as a financial education resource during all stages of deployment, for transition assistance into civilian life, and to address the significant financial challenges during re-integration. In addition to outreach activities, VeteransPlus serves as a resource to partner non-profit organizations that provide employment training, housing counseling, and emergency financial assistance. As evidence of the value of the VeteransPlus mission, VeteransPlus received the 2011 Financial Literacy Champion Award from Florida's Chief Financial Officer.
ABOUT FANATICS, INC.
Fanatics is a leading online retailer of officially licensed sports merchandise and provides the ultimate shopping experience to sports fans. Comprising the broadest online assortment, Fanatics offers hundreds of thousands of officially licensed items via its Fanatics and FansEdge brands. In addition, the Company powers the e-commerce sites of all major professional sports leagues (NFL, MLB, NBA, NHL, NASCAR, PGA), major media brands (ESPN, NBC Sports Network, CBS Sports, FOX Sports) and over 100 collegiate and professional team properties.
ABOUT BIDCYCLE, LLC:
Based in Erie, Pennsylvania, bidcycle was created to combine online auctions and empowered fundraising. With a unique platform that changes the way consumers bid, win, and enjoy significant savings on great products and services, bidcycle allows its participants to support their favorite nonprofit each time they purchase bids. The company is incorporated in North Carolina.
CONTACT:
Jeff Parnell, CEO (e-mail: JParnell(at)bidcycle(dot)com; phone: 814.440.5731)