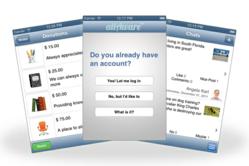 Cooper City, FL (PRWEB) December 20, 2012
allAware, the innovative free instant social app for nonprofits, allowing organizations to improve communication, build member engagement, and enable mobile donations and fundraisers, has been updated. The new version provides simplified mobile account creation, and contains bug fixes, performance and UI enhancements. The app is also now available on iPad and Windows 8. Developed by the Florida-based Linxter, Inc., allAware is the proven solution for nonprofits of all kinds to maximize their virtual reach.
The brainchild of Jason Milgram, founder of Linxter, allAware grew out of observing the real world needs at the temple his family attends in Cooper City, FL. Like many faith-based organizations, Jason saw that member-wide communication was always a challenge at Temple Beth Emet, even though they utilized a website and a weekly email newsletter. Realizing a mobile app could help alleviate this problem, Jason set out to build a program that would allow members to double-check event and meetings times whenever and wherever they were. In addition, members could be informed on the latest news, chat with other members, and make mobile donations.
Development of allAware began as a side-project in January 2011. However, as Jason continued to work on the app and talk with others about his project, he realized that solving communication and fundraising challenges was a universal issue for faith-based organizations and nonprofits of all kinds. "It was in April 2011 when I was speaking at a tech conference in Las Vegas that things changed," said Jason. "I was taking about allAware during lunch and two folks almost jumped out of their seats asking when they could get the app." At that point, Jason turned the entire focus of his company to completing allAware.
Early testing with organizations began in November 2011, and in February 2012 allAware beta became publicly available as a test version. "As of today, we have several hundred organizations using the app with just over 200,000 active users," Jason explained. "Our earlier releases were a bit rough, but from working with and getting feedback from these organizations, we have been improving the app bit by bit into what I think is truly a special product."
allAware enables members to make one-time or recurring donations with a few clicks using a previously entered credit card. Last month, allAware introduced mobile fundraisers, which allow nonprofits to sell items online, such as books, t-shirts, event tickets, or whatever they want. Just introduced is the pay-a-bill option, allowing members to pay membership fees or dues, or school or camp fees via the app as well.
Temple Beth Emet just put their gift shop online for their members. "Having our gift shop online enables our members to purchase items, such as Shabbat candles, or a gift for a loved one, whenever it is convenient for them," said Rabbi Frank DeWoskin. "But what we like most about allAware is that it is improving our member engagement, allowing anytime and anywhere communication and interaction with and among our members, strengthening our community."
"allAware does not replace anything that organizations already have such as their Facebook page or website," explains Jason. "allAware is another tool nonprofits can use to help solve the communication and fundraising challenges they face."
allAware is available for download at: http://www.allaware.com
About Linxter Inc.,
Linxter, Inc. provides easy-to-use, affordable, cloud and mobile technology solutions, focused on solving communication and financial transaction challenges. Linxter is a Microsoft BizSpark One alumni company. http://www.linxter.com