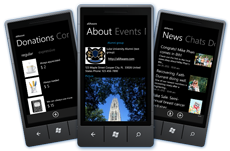 People are seven times more likely to use a mobile app than they are a website.
Cooper City, FL (PRWEB) March 29, 2012
Jason Milgram, founder of Linxter, Inc., a software engineering firm, will discuss the latest advances in mobile and cloud computing being used by nonprofits to increase involvement and donations at the Social Mobile Payments conference April 11-12 in Orlando, FL.
"A decade of innovation is before us, with cloud computing and mobile devices at our fingertips," said Milgram. "Technology is being used to increase member involvement in nonprofits, from faith-based organizations to college alumni groups."
Linxter, Inc. is in the final beta-testing phase of allAware, a free mobile app for nonprofits. About a dozen nonprofits, in Florida, Tennessee, Connecticut and California, have been testing the app. The allAware app is scheduled for release in April 2012.
"People are seven times more likely to use a mobile app than they are a website. It's simply a matter of accessibility," stated Milgram. "People can use a mobile app whenever it's convenient for them, without needing to go home, sit down in front of a computer and log-in to a website. Mobile apps are making it easier for members of nonprofits to be involved in their organizations."
Milgram has worked as a technical consultant in system architecture and management positions for IBM, the U.S. Department of Justice, Florida Power and Light, Chase Manhattan Bank, PricewaterhouseCoopers, Kodak and Iris Associates, the creator of Lotus Notes.
As a public speaker, he has presented on topics such as cloud computing, system architecture, and starting a software business. He is one of fourteen U.S. Microsoft Windows Azure MVPs and is a registered INETA Regional Speaker.
About Linxter, Inc:
Linxter provides easy-to-use, affordable, cloud and mobile technology solutions, focused on solving communication and financial transaction challenges. Linxter is a Microsoft BizSpark One alumni company.