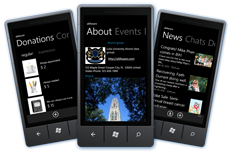 People are seven times more likely to use a mobile app than to log into a website.
Cooper City, FL (PRWEB) April 30, 2012
Learn how to make your app-building operations more efficient with the Windows Azure cloud platform in a free webinar May 9 at 4pm EST. Linxter, Inc. CEO Jason Milgram will discuss how he used Azure to build allAware, a free mobile app to help nonprofits increase member involvement and donations.
"With Azure, you can write an app and deploy it, and you don't have to worry about much else," Milgram said. "The cloud takes care of infrastructure needs, decreasing the necessity for organizations to rely on their own equipment and personnel to maintain 24x7 operations."
Milgram will lead a discussion on how technology can be used to increase member involvement in nonprofits, from alumni groups to faith-based organizations. Webinar attendees will learn about the differences between IaaS and PaaS cloud computing offerings, and hear about the pros and cons of the three approaches to building mobile apps.
allAware is a newly-developed free mobile app for nonprofits that lets organizations interact with members, share news and even solicit donations in a private and secure forum.
"Many nonprofits have Facebook and LinkedIn pages, but the information shared is public," Milgram said. "Most people don't know how to adjust their privacy settings. This app allows the sharing of private information."
allAware has been used by alumni groups, faith-based organizations, and political groups during its beta testing, Milgram said. The app is available on Android and Windows Phone devices now, with iPhone coming soon.
People are seven times more likely to use a mobile app than to log into a website, it's just easier to use, Milgram said. The app also can be set up to receive donations anonymously, with a message attached or an emoticon.
About Linxter, Inc:
Linxter provides easy-to-use, affordable, cloud and mobile technology solutions, focused on solving communication and financial transaction challenges. Linxter is a Microsoft BizSpark One alumni company.