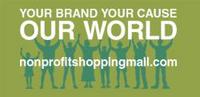 Anaheim, CA (PRWEB) October 1, 2008
E-commerce site nonprofitshoppingmall.com celebrates the one-year anniversary of People Who Care, an informative monthly feature that focuses on nonprofits that change the world and profiles celebrities affiliated with that nonprofit. People Who Care hopes to define the mission of each nonprofit so that site viewers come to know the charity in an engaging, new format.
Some nonprofits profiled include: (1) Do Something which promotes volunteerism with young adults 25 and under, featuring an interview with spokesperson, EMME. (2) RAINN (Rape, Abuse, Incest National Network) which provides critical information for victims of sexual abuse and assault, featuring an interview with spokesperson, Christina Ricci. (3) Doctors Without Borders which provides quality medical care to people caught in crisis, both natural and man-made, in over 60 countries worldwide. (4) The Surfrider Foundation which promotes the protection and enjoyment of the world's oceans, waves and beaches, featuring an interview with surfer and supporter, Chef David Myers of Fine Living Network (FLN). (5) Susan G. Komen for the Cure which specializes in breast cancer research, featuring an interview with Komen ambassador Rene Syler.
nonprofitshoppingmall.com allows consumers to shop online for the things they would normally buy from the brands they would normally choose and at the prices they would normally pay, while making a charitable donation to one of dozens of nonprofit organizations in the process. A portion of every dollar spent online is donated to groups such as Global Green USA, Children's Miracle Network, ASPCA, Feeding America, National Wildlife Federation, Room to Read, Veterans For America and The Conservation Fund. This short altruistic detour makes every purchase count, turning everyday shopping into everyday giving.
nonprofitshoppingmall.com visitors can choose from over 250 brand-name retailers featuring clothing and accessories, home and garden decor, travel deals, health and beauty products, pet supplies, action sports gear and more. Retailers include Macys, Nordstrom, Target, Urban Outfitters, Apple, Staples, PetCo and many others, including a wide range of specialty, green and eco-friendly merchants.
Corine Couwenberg, President and Founder of nonprofitshoppingmall.com says "creating the People Who Care feature has allowed us to highlight a variety of nonprofits, spread their message by adding a personal touch and provide our online shoppers with an opportunity to make socially conscious retail decisions at the same time. We are pleased with our progress to date and will continue to spotlight new organizations and the People Who Care about them on a monthly basis.'' She further notes, "With breast cancer touching the lives of so many friends, families, communities and women worldwide, it's fitting that we come full circle and feature the good work and goals of Susan G. Komen for The Cure again this October by making it our default beneficiary throughout the month."
###